The city – sliced, diced and served with a dash of sauce
Pic/Sameer Markande
By a neck
A little child plays with a nilgai statue at the Sanjay Gandhi National Park in Borivali
Big win for gender film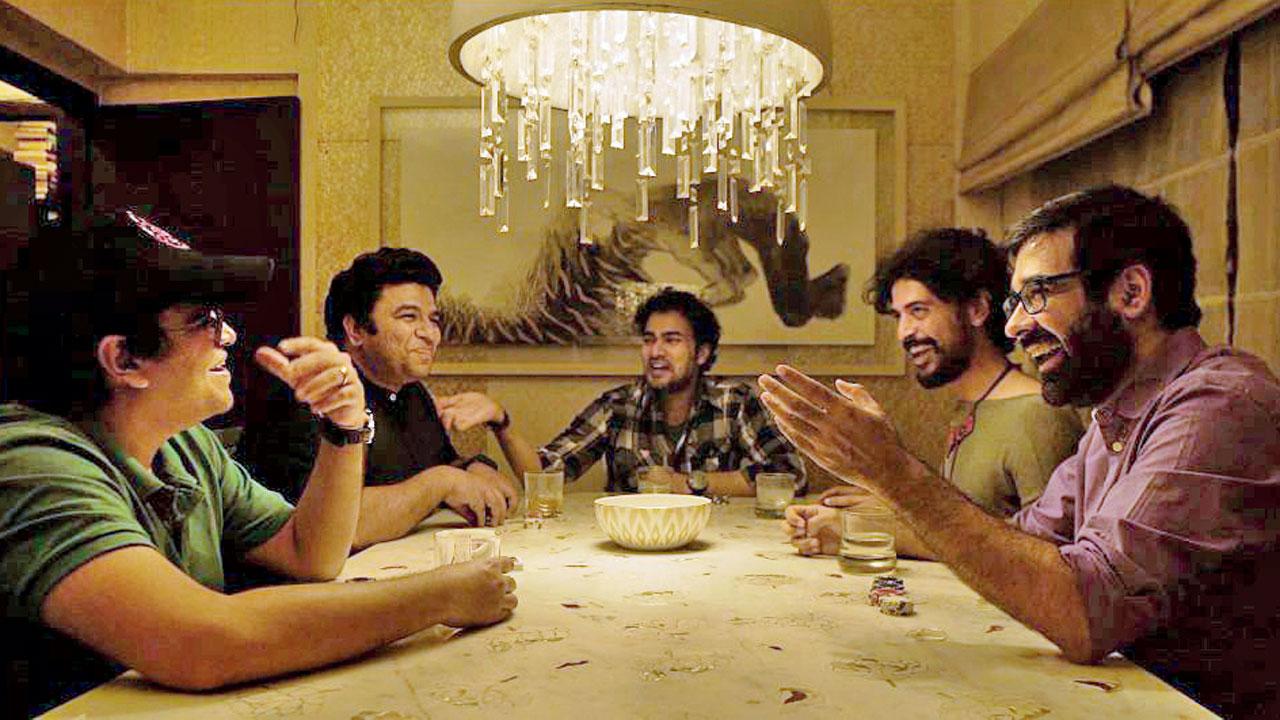 A moment from Fairy Folk. Pic Courtesy/IMDB
This diarist was happy to learn that Fairy Folk, a quirky short film by director Karan Gour, has travelled to two prestigious festivals since its release in June. The piece will now be screened at the Chicago International Film Festival in the Best LGBTQ and Comedy Film categories. The plot dishes out magic realism served alongside a part-funny relationship drama.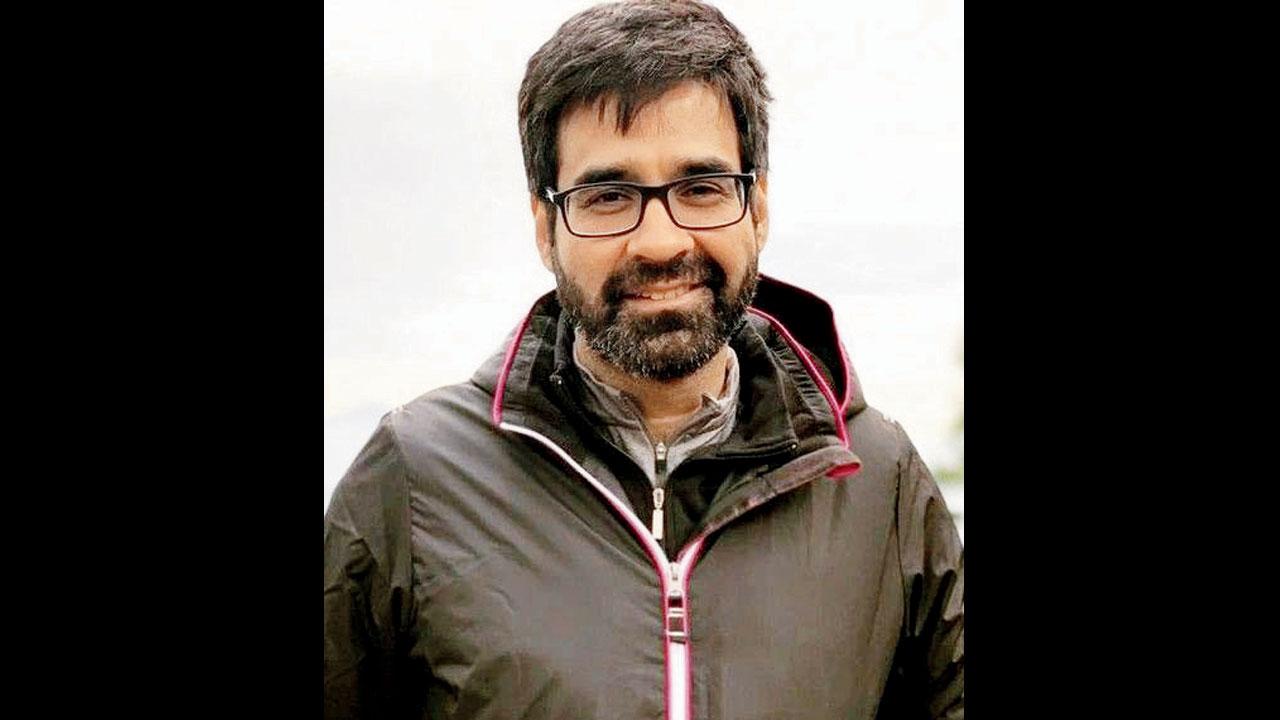 About the honour, its actor Mukul Chadda shared with this diarist, "It's a reaffirmation of our work and an opportunity to present our efforts to a global, discerning audience. I look forward to going to Chicago with our little improvised film." He added that Gour's unusual filmmaking process added to the experience of an actor. "There were no written dialogues and we shot really long 20-minute takes," Chadda explained.
Childhood tales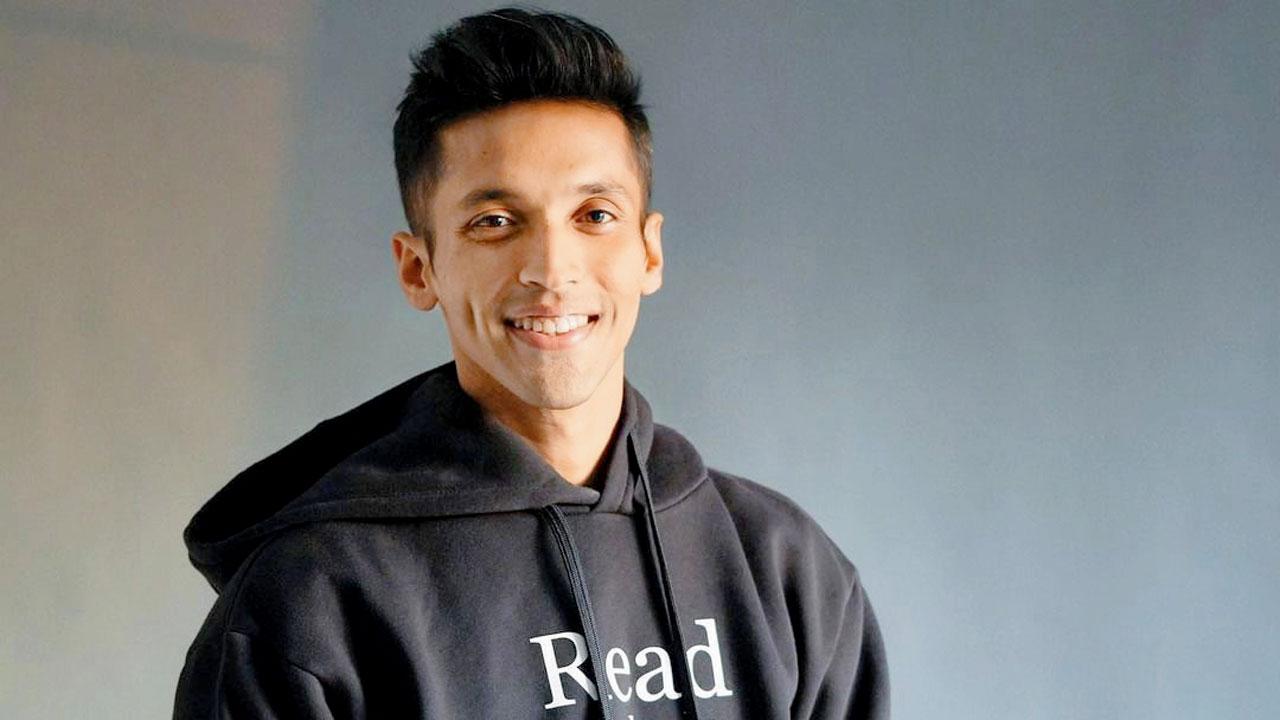 Author Durjoy Datta's writing style is known to directly engage with the anxieties and aspirations of the youth. After three years, he is back to touring Indian cities and interacting with readers about his new title, When I am with You. "It's been a long time since I did my last book tour. I am especially interested to gauge how reading habits have changed with the pandemic and OTT platforms. Attendees at these events must have held on to their reading habit through all this time. In my interactions with them, I want to find out how they were able to do that," Datta told this diarist. His book which released in August is about two characters who have had a dysfunctional childhood. He added, "In their adulthood, they are trying to create their own childhood, and bend the rules of a typical family." Readers who identify with the author's narrative voice can catch him in the city on November 16 and 17. Before halting at Mumbai, Datta will visit Bengaluru, Kolkata, and Delhi.
'Bombay is my first love'
It took almost a decade and a half for the "shy" couturier Shahab Durazi to make a comeback with a retrospective show. "I wanted to present fashion, and a fashion show where people come and see the clothes, and appreciate the craft," Durazi shared at the post-show media meet.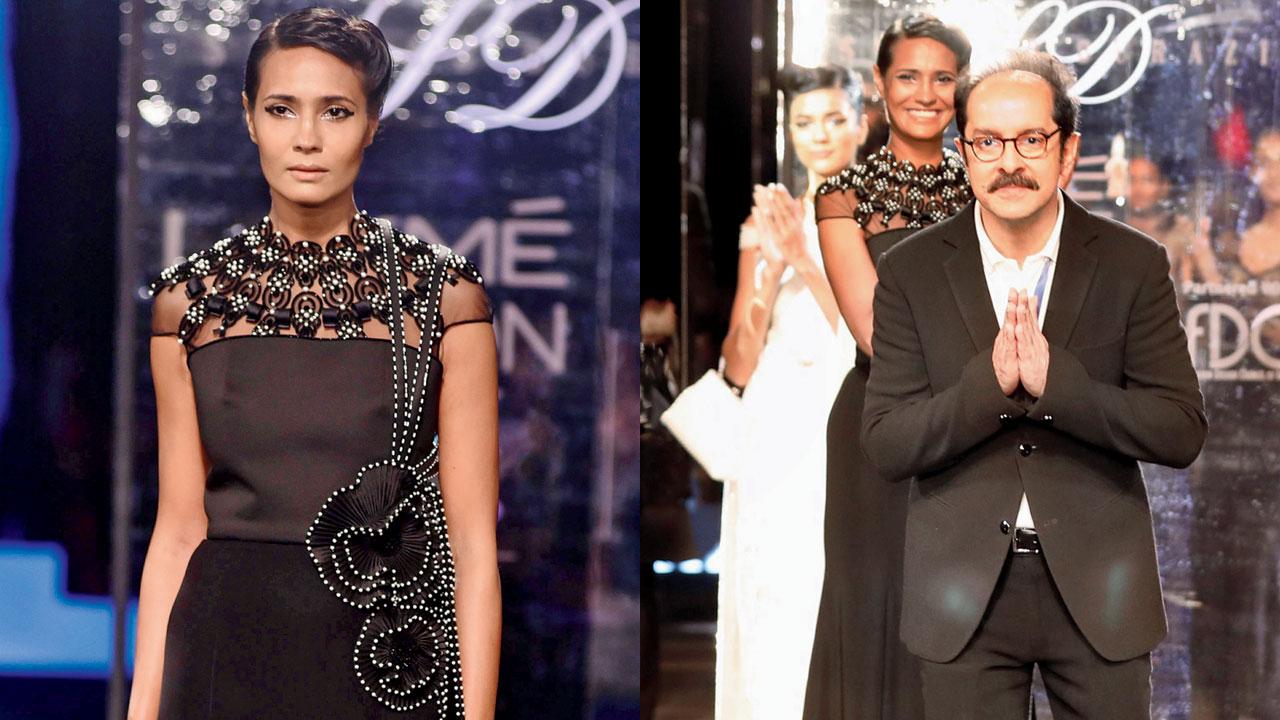 Rikee Chatterjee wears an outfit by Shahab Durazi (left) Shahab Durazi takes a bow after his retrospective show. Pics/Shadab Khan
"Bombay is my first love. […] Somehow for some reason I am more comfortable showing in Mumbai. It was inevitable that I'd do a show here," he shared with this diarist. But in stark contrast to what's become the defining spirit of Bombay, which is Bollywood and celebrity-infused hysteria, Durazi chose a sober [read: elegant] approach. And it started with showing at 8.30 pm instead of the coveted 9.30 pm slot on Wednesday at the FDCI x Lakme Fashion Week. There wasn't a video featuring a montage of scenes or flashbacks of his stellar shows or works that usually precede a 'retrospective' show either. 
Retrospective, he said, is a pearly phrase. "It denotes a past that deserves to be revisited for what it once held and must now be re-seen through the prism of the present. And the present? It barely lasts a breath until it becomes a past."  
He also knows the genuine difference between the stylish and the show-offs; his handpicked front-row crowd was the former in a typically "Bombay" way. It included the Durazi loyal clientele and supporters including Adhuna Bhabani, Farzana Contractor, Zeba Kohli, Sabina Singh, Lara Datta and Tapur Chatterji, among others.
Sophistication is more than just classic elegance: it is knowing, urbane and modern. The retrospective show was a sum of his extensive experience, brought together, he says, by his "taste for elegant simplicity". "Being a Western wear designer, I have stuck to doing that for the last 34 years. I know a lot of my contemporaries who started out with Western wear who have now moved to Indian wear because there's a lot of money to make in that. I'd rather make less money but do what I believe in."
Take the saintly route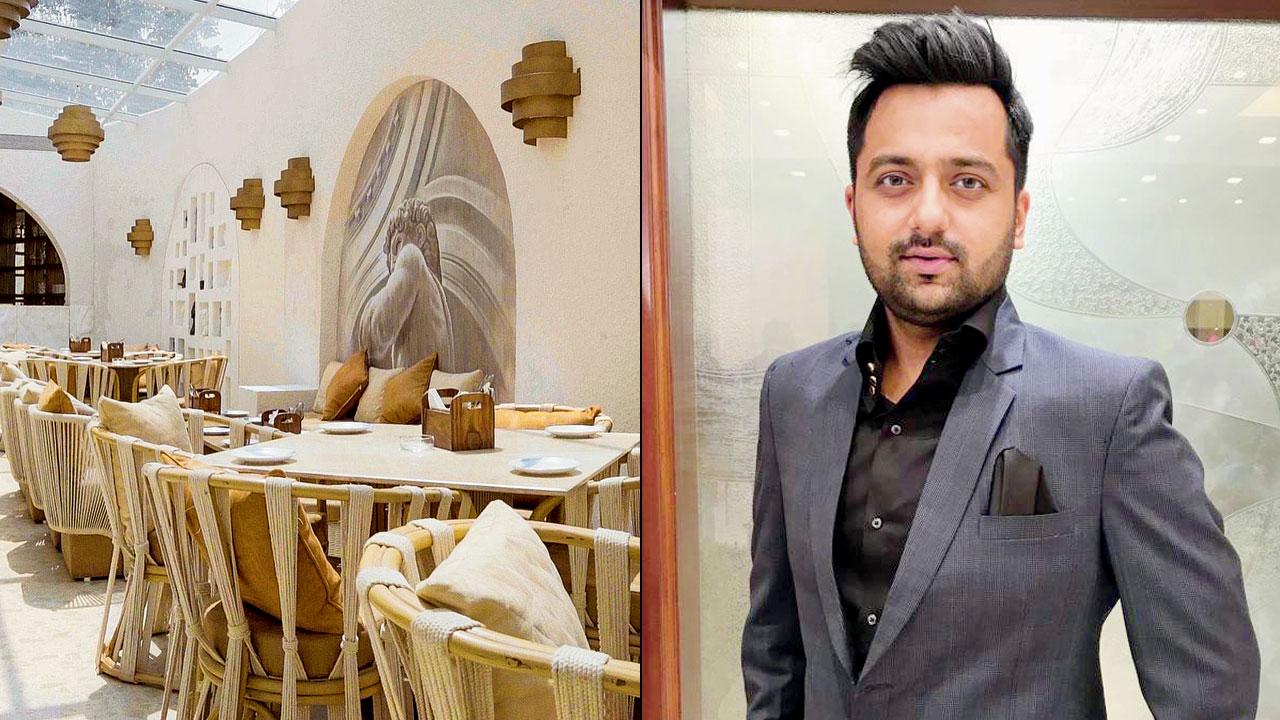 A new outpost in Khar called All Saints is trying to tell diners that no matter who they are, once they step inside this haunt they will be thought of as saints for being themselves. "The idea was to create a safe space for all kinds of people. We are looking to create a community of foodies, cocktail enthusiasts and fun-seekers," said its owner Ketul Parikh (inset). He shared that some of their special dishes are avocado and truffle Japanese pizza, signature butter chicken naan bombs, edamame truffle dim sum, crab dynamite roll and butter garlic prawn flatbread. Source: https://www.mid-day.com/mumbai/mumbai-news/article/mumbai-diary-friday-dossier-23250326