MUMBAI: The Mumbai Metropolitan Region (MMR) that crossed Mumbai's Covid -19 tally on Wednesday took half the time to double its cases as compared to the city. The region that consists of three districts and eight municipal corporations (without including Mumbai city and suburban) took 20 days to double its tally from 52,657 cases to 1,05,300 on Wednesday. In comparison, Mumbai had taken 42 days to reach the Wednesday tally of 1,04,878 from 52,667 cases on June 10.
In fact, in the 22 days of July, Mumbai added 27,030 cases, whereas MMR added 58,106 to surpass Mumbai's mark. Within the corporations in the MMR, Kalyan-Dombivli added the highest on Thursday with 414 cases. Following it are Thane, Navi Mumbai and Vasai-Virar with 300 -plus cases daily.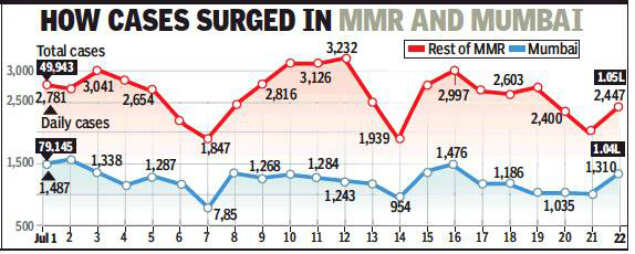 MMR has beds but lacks trained experts, says doctor
Worryingly, the daily average deaths in MMR are far more than those in Mumbai. On Thursday, 75 (58%) of 130 deaths in the region came from cities near Mumbai.
Mumbai's population is 1.8 crore, while MMR's estimated population is 2.3 crore.
State officials said the deluge of cases in MMR has put the spotlight on its underdeveloped health infrastructure, more so as patients make a beeline for Mumbai hospitals. Smaller corporations like Bhiwandi and Ulhasnagar are affected due to lack of health infrastructure in the wake of growing cases. Ulhasnagar, on Thursday added 170 cases and Vasai-Virar saw 23 deaths in 24 hours.
At SevenHills Hospital, a 1,000-bed facility for Covid, nearly 20% beds are occupied by patients from MMR. "Many come looking for oxygen support and ICU. Even if facilities have beds there, trained manpower seems to be an issue," said Dr Balkrishna Adsul, in charge of SevenHills.
A senior physician from a SoBo hospital said they are flooded with calls from politicians referring patients from MMR. "It's not enough to put a patient on oxygen support. One should know when to increase flow or decrease it," the doctor said. Adsul added patients are spending a few days in local hospitals and losing out on precious time. An integrated command centre for better bed management as well as pooling of resources in MMR is now on the cards.
KDMC has the most cases among the 8 corporations of MMR. It has reported a 160% increase in cases since start of July, while Thane has seen an 81% increase from 9,922 on July 1 to 17,969 on July 22. Also, for the month, MMR has added almost double the number of daily cases compared to Mumbai. A state official said cases in satellite towns have gone up since the unlocking began and a large number of infections are among frontline workers working in Mumbai or neighbouring areas. NMMC has launched 'Mission Break the Chain' with a surveillance and screening drive in 42 hotspots. In Mira-Bhayander, tenders have been invited for a 1,000 bed Covid care centre.
Source: https://timesofindia.indiatimes.com/city/mumbai/mmr-tops-mumbai-tally-as-cases-double-50-faster/articleshow/77137694.cms