MUMBAI: Fifteen new coronavirus cases were reported in the state on Wednesday, taking the total to 122. Maharashtra's count thus again went ahead of Kerala to be the highest in India; on Tuesday, Kerala had overtaken Maharashtra (107) with 109 cases.
Of the state's new cases on Wednesday, seven were from Mumbai, five from a single family in Islampur, Sangli, and one each from Navi Mumbai, Panvel and Kalyan.
Mumbai city has recorded 48 positive cases in a span of two weeks, while the broader Mumbai Metropolitan Region now has 67, the highest among all regions in the state.
Among the latest cases detected in Mumbai's Kasturba laboratory, five were close contacts of an infected person .
Another person was a 39-year-old man who had returned from the UAE, while one was a 27-year-old who had travelled to the US. Civic officials said that around 182 patients (confirmed as well as suspected cases) are currently admitted at Kasturba Hospital, while the OPD there saw around 430 patients in a day.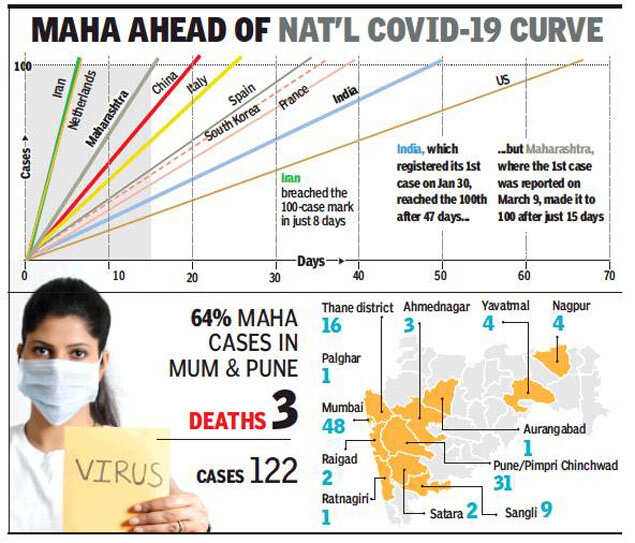 The five people from Sangli who tested positive on Wednesday are close relatives of the four from Sangli who had tested positive on Tuesday. The 57-year-old resident of Navi Mumbai who tested positive on Wednesday had come in contact with the 68-year-old Filipino who had visited a religious site along with nine other pilgrims. The Filipino tested positive for Covid-19 but had subsequently tested negative when he succumbed on Tuesday. His wife and married son have been admitted to Kasturba hospital, and their test reports are awaited. Even if their reports are negative, they will be quarantined at Kasturba hospital for two weeks for observation.
A 38-year-old software engineer who tested positive in Kamothe, Panvel, on Wednesday has a travel history to New York. He had arrived from New York on Monday. He travelled in an Ola cab from the airport and so the cab driver, a Belapur resident, has been contacted. The driver, his three-month-old baby and other family members are under observation along with the family members of the engineer. The driver and his family members have been asked to quarantine themselves. Also, details of those who have travelled in the Ola cab after the techie got off are being obtained so they could be traced. All of them will be quarantined. A 26-year-old from Kalyan who tested positive has a travel history to Turkestan, Kazakhstan.
"While there are new cases testing positive, there are also people who are getting better and getting discharged," said Rajesh Tope, state public health minister.
Meanwhile, the BMC has decided to set up 1,000 isolation beds in its peripheral and specialty hospitals. The civic chief has instructed officials to ensure these are ready within five days.
Download

The Times of India News App for Latest City News

Subscribe

Start Your Daily Mornings with Times of India Newspaper! Order Now
Source: https://timesofindia.indiatimes.com/city/mumbai/10-new-positive-cases-in-mumbai-region-maharashtra-tally-up-15-to-122/articleshow/74820251.cms