As mall is sanitised in Mumbai on August 3, 2020. (Express Photo: Narendra Vaskar)
Maharashtra, Mumbai, Thane Coronavirus Live Updates: Maharashtra reported 10,309 fresh cases of Covid-19 in the last 24 hours, taking its tally to 4,68,265 on Wednesday, while 334 patients succumbed to the infection, the state health department said. The state also reported the death of 334 more patients, taking the toll to 16,476, said a health official.
As Maharashtra shows signs of stabilisation in its active cases, the state has begun opening up with new guidelines easing restrictions and permitting activities under its 'Mission Begin Again'. From today, all shops will be allowed to open every day, and on both sides of the road, from 9 am to 7 pm. Till now, only non-essential and standalone shops were allowed on one side of the road on odd days, while those on the other side were open for business on even days.
The total number of cases stands at 4,57,956 while the death toll was recorded as 16,142 Wednesday. BMC has restricted the movement of people for non-essential activities, like shopping and outdoor exercise, to their neighbourhoods.
In other news, a new genetic study has found the prevalence of a unique variant of the virus in Maharashtra. Scientists at the National Centre for Cell Sciences (NCCS) in Pune have found a region-specific variant, which has not so far been reported from other parts of the country. (Also read Mumbai Rains, Weather Today Live Updates)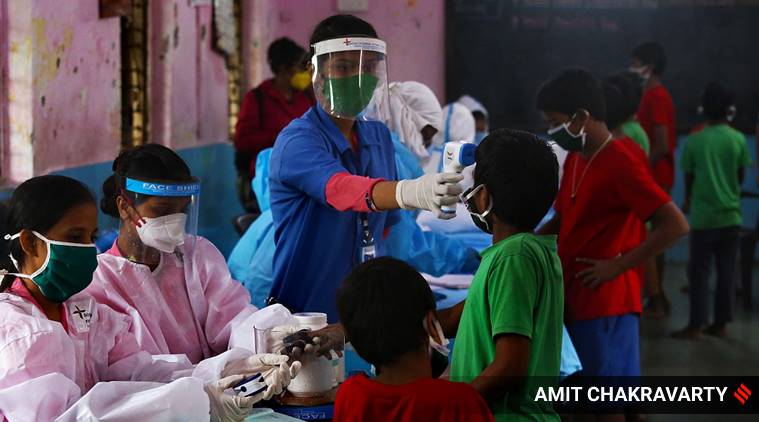 Maharashtra, Mumbai, Pune Coronavirus Live Updates: At a Covid-19 testing center in Mankhurd on Tuesday. (Express Photo: Amit Chakravarty)
Maharashtra, Mumbai, Pune Coronavirus Live Updates:
Maharashtra's COVID-19 tally on Monday increased to 4,50,196 with the addition of 8,968 fresh cases, while more than 260 patients succumbed to the infection, the state health department said. With 266 fresh deaths, the fatality count increased to 15,842, said an official from the health department. Maharashtra now has 1,47,018 active cases. A total of 22,98,723 people have been tested so far for COVID-19.
Mumbai city and suburban areas (MMR region) reported 970 and 2,957 fresh cases of COVID-19, respectively. With this, Mumbai has so far reported 1,17,406 cases and 6,493 deaths. The wider MMR region now has 2,49,111 cases of COVID-19 and 9,970 deaths. The number of cases jumped by 796 in Pune city, while the neighbouring Pimpri-Chinchwad added 731 new infections in the day.
The Centre released its guidelines for Unlock 3.0, which will be enforced in the month of August. Under these guidelines, night curfew has been done away with (note: night curfew remains in place in Maharashtra). Further, yoga centres and gyms have been allowed to reopen, under the Centre's rules.
Source: https://indianexpress.com/article/cities/mumbai/maharashtra-coronavirus-live-updates-mumbai-pune-thane-covid-19-cases-recoveries-deaths-reopening-unlock-guidelines-6538200/