Mumbai's art aficionados are revelling in the design dynamics of the AD Design 2022 festival ( designed by Komal Sharma and team)  and DAG's presence within its gala medley is a suite that echoes not just its vintage vitality but its range straddling the innovative, the singular, as well as defining its place as  pioneer of modern and contemporary art  exhibitions across a variety of media and genres.
Active in both the primary and secondary markets, Ashish Anand of DAG  has helped foster the careers of some of the most influential artists working today and has maintained long-term representation of a wide-ranging, international group of artists in India as well as other parts of the world.Amongst this album of India's best are 5 works that are stellar in both compositional clarity as well as adding historical depth and gravitas.From human figures to a salient nude to the abstract tenor there is something for everyone.
Lord Krishna in devotion 
Master of representation, M. V. Dhurandhar's realistic translation of the devotee in worship of Lord Krishna is a testimony to time and the beauty of Bhakti. We can see that it belongs to the period of religious symbolism and it recalls great bhajans specially the venerable Yesudas Madhurashtakam and MS Subhalakshmi's Bhajagovindam. The work has its own evocative ethos for the poise and gesture that he endows his subject with. The title of the work, Todi Ragini, is an open ended reverential suggestion of not just the rhythm of the spiritual but it reflects the metaphorical stances of the name Ragini not just as a feminine word but also as a title that endows its own melodic mode in the classification of ragas.
George Keyt's lithe lines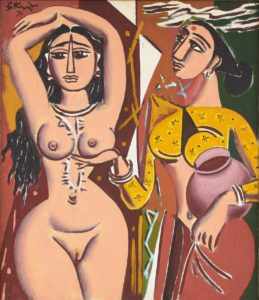 George Keyt's lithe lines are seen in this study of two women, Keya is Sri Lanka's most celebrated 20th Century artist. His unique visual idiom combines European Modernist innovations with the ancient South Asian fresco techniques found at Ajanta and Sigiriya. his subject matter was almost always rooted in local tradition, depicting dancers, shepherdesses and gods, often drawn from Hindu and Buddhist mythology
His two figures bathed in the contours of cubist idioms, with their  almond-shaped eyes ,his most consistent stylistic signature, are a riveting study. You can sense his love for the human figure as well as his emphasis on bold, crisp lines and a prolonged romance with his love for the cubist perspective. Keyt's luxuriant nudes and semi-nudes swaddled in flowing robes, graceful long limbs graceful  provocative intertwining intricacies are a delight to behold. His figural composition celebrates the female form. His distinct visual vocabulary  melds a modernist stylistic formula with typical tropical colours, and an expressive emotive line.
Laxman Pai's nude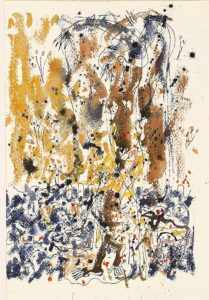 From Keyt to Laxman Pai's Nude an abstract study with thin lined perfection.Laxman loved the Goan pastorale. Very often his abstracts were laced with elements of the lush tropicana of Goa and its sandy soil. As does his  use of lines in this work  suggest movement as well as a certain aura of poise. Though each of the strokes of the artist on the nude frame in pen and ink suggest a moment of stillness, there is also a subtle suggestion of movement in the manner in which the work is swathed with so many multiple strokes. In this work we see a classical simplicity as well as a mastery of colour in the manner of placement and precision.
Qadri's quiescent paper dye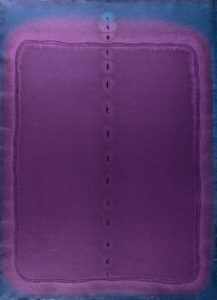 Sohan Qadri's abstraction on dyed paper is an exemplification of his search for the absolute. Qadri  abandoned representation early on in his long career, instead focusing on abstraction as a means to achieve transcendence. This work positions him as an abstractionist of depth and tensile tenor. His technique was enchanting. He would bathe the paper in acid-free water and once it was swollen with liquid, he would rhythmically serrate, puncture and score the surface with various gouging and cutting tools as part of his meditation practice. Imbued with ink and dyes in various hues, we look at the serrated surfaces and see that they  take on a sculptural quality and appear to pulse with energy and rhythm. In Qadri's hands, the very nature of paper was transformed from a flat, two-dimensional surface into a quiescent three-dimensional medium.
River Ganges in antiquity 
Historical and  dreamy is this riverscape  painting of Benaras by Dutch artist Marius Bauer. It presents the multiple nuances of the Benares landscape and the beauty of minimalist strokes and fervour that can add to spiritual depth as well as create nostalgic vignettes of the past.The power of this work lies in its impact born of the bronzed shades of the sunset on the Ganges. The term Sandhya comes to mind as we gaze at its hues creating in more ways than one a silent melody of an evening raga that wafts  across the waters through the breath of a maestro such as Pt Hariparasad Chaurasia.
[Images: DAG World]
END OF ARTICLE
Source: https://news.google.com/__i/rss/rd/articles/CBMiaWh0dHBzOi8vdGltZXNvZmluZGlhLmluZGlhdGltZXMuY29tL2Jsb2dzL3BsdW1hZ2UvZGFncy1zdWl0ZS1vZi13b3Jrcy1leGNlbC1pbi1kZXNpZ24tZmVzdGl2YWwtYXQtbXVtYmFpL9IBaWh0dHBzOi8vdGltZXNvZmluZGlhLmluZGlhdGltZXMuY29tL2Jsb2dzL3BsdW1hZ2UvZGFncy1zdWl0ZS1vZi13b3Jrcy1leGNlbC1pbi1kZXNpZ24tZmVzdGl2YWwtYXQtbXVtYmFpLw?oc=5