System criticised as extortionist and a nuisance for citizens to be reintroduced; 24 pvt contractors to put 30 marshals in every ward
Clean-up marshals fine citizens for not wearing masks in January this year. File pic
Clean-up marshals may return to city streets soon with the BMC considering a proposal for the same. A senior official from the solid waste management department said there is a proposal but nothing has been finalised yet. If appointed, these marshals will be in charge of keeping the city clean and beautiful by slapping fines on citizens for littering, spitting, etc. This despite the civic body receiving many complaints over clean-up marshals earlier, especially during the COVID-19 pandemic.
A senior official said, "New marshals, if appointed, will have the power to penalise people as they did before the pandemic." Another official said that as per the proposal, the civic body is considering appointing 24 contractors in 24 wards for 30 marshals in each ward.
However, in view of the scores of complaints from citizens about clean-up marshals, the Brihanmumbai Municipal Corporation is considering checking the educational qualification of the marshals and may put Std X or XII pass as an eligibility criteria. The civic body may also consider character verification certificates from the police before appointing marshals.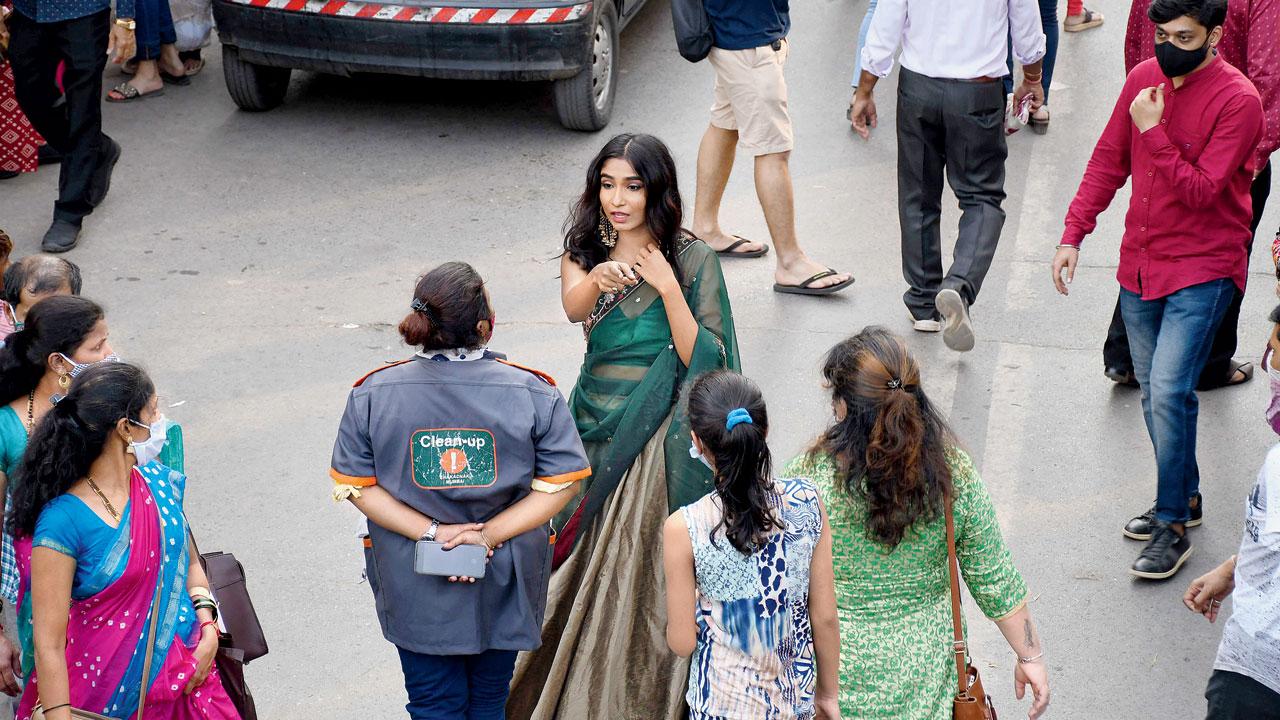 A clean-up marshal penalises a woman for not wearing a mask in March 2021. File pic
Rashmi Jadhav, a Dahisar resident, told mid-day, "Though there should be a system to keep a city clean and stop people from littering, slapping fines is not the correct way. There is a possibility of corruption and harassment. The authorities should focus on awareness."
Also read: Mumbai: BMC approves Andheri's Gokhale bridge contractor
Anil Galgali, a civic activist, said, "The plan is good but it is always misused. Before appointing clean-up marshals, it is necessary to arrange waste bins in the city and suburbs and clean them on time. If people litter even after that, then action should be taken against them." The BMC had first appointed clean-up marshals in 2006 and then in July 2016. After that, the contract was renewed on a yearly basis. The marshals were given the power to penalise people for spitting, littering, dumping waste/debris, open defecation, for not picking up pets' poop, etc. and the fine ranged from Rs 100 to Rs 1,000. 
After the COVID-19 pandemic hit in 2020, the marshals were given the task to enforce the mandatory mask rule and to fine those not wearing masks with R200. Their services were discontinued in March 2022 after the pandemic-related restrictions were lifted and masks were not mandatory. During these two years, the marshals had fined more than 35 lakh citizens and collected over Rs 80 crore as penalty. The marshals have faced heavy criticism from Mumbaikars over alleged extortion.
Mar 2022
Month when clean-up marshals were discontinued Do you think the new ROB on Andheri-Ghatkopar Link Road will ease traffic?
Source: https://news.google.com/__i/rss/rd/articles/CBMicWh0dHBzOi8vd3d3Lm1pZC1kYXkuY29tL211bWJhaS9tdW1iYWktbmV3cy9hcnRpY2xlL2Jld2FyZS1jbGVhbi11cC1tYXJzaGFscy13aWxsLWJlLWJhY2stb24tbXVtYmFpLXJvYWRzLTIzMjYwODEw0gF1aHR0cHM6Ly93d3cubWlkLWRheS5jb20vYW1wL211bWJhaS9tdW1iYWktbmV3cy9hcnRpY2xlL2Jld2FyZS1jbGVhbi11cC1tYXJzaGFscy13aWxsLWJlLWJhY2stb24tbXVtYmFpLXJvYWRzLTIzMjYwODEw?oc=5