Calmer winds mean unusually cooler and extended winter, but the bad news is that pollutants don't get swiftly dispersed; experts say poor air quality is here to stay for years to come
A thick layer of smog lingers over the Arabian Sea, near the Gateway of India, on Friday. Pic/Shadab Khan
Mumbaikars are likely to breathe polluted air for some more days this winter and many more to come, thanks to climate change, warned experts and researchers. They have cautioned on the basis of statistics from this year and the past. "There is unusually calm wind across Mumbai and surrounding regions. This has prevented the swift dispersion of air pollutants, even though Mumbai is surrounded by the ocean," said Dr Gufran Beig, founder of SAFAR.
Between November 1 and December 10, the AQI in Mumbai was 'poor' on 18 days and very poor on four days — on December 5, 6, 7 and 8. However, last year, during the same 40-day period, the AQI was poor on six days, and there was not a single day with AQI in the very poor category.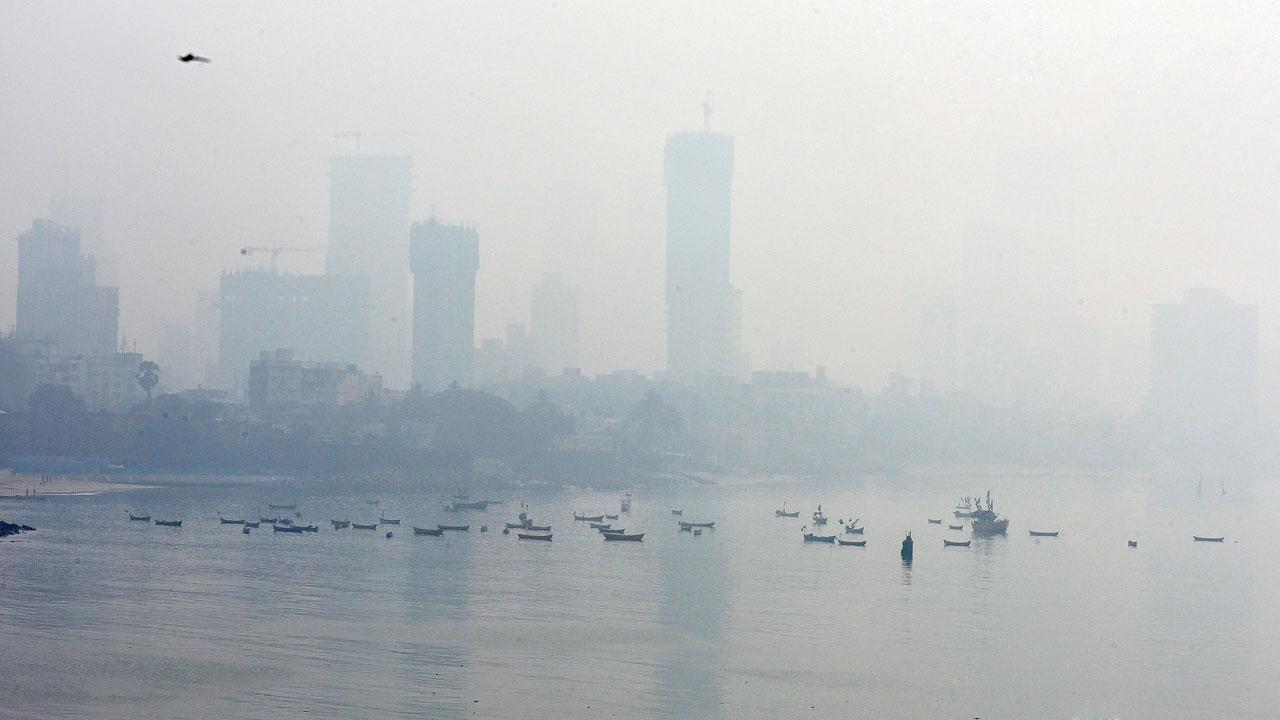 Thick smog envelops the city as fishing boats are anchored in the sea, in Mahim, on December 7. Mumbai's air quality was between poor and very poor range last week. Pic/Shadab Khan
Between the same period in 2021, the fine particulate matter (PM2.5) was within the permissible limit on 18 days, but only one this year. Even on Monday, Mumbai's overall AQI was 225 (poor). On December 9, Mumbai (308) logged AQI worse than that of Delhi (259).The only relief will be from the Cyclone Mandous aftermath and the likelihood of the wind speed picking up.
Also read: "People with no lung disorders also at risk", say health experts on Mumbai's rising air pollution
Climate change
Dr Gufran Beig, founder and project director, System of Air Quality Weather Forecasting and Research (SAFAR), said, "Owing to the phenomenon of La Nina (cold ocean temperatures in the Equatorial Pacific), India has been experiencing and will continue to experience unusually cold and extended winter. Moreover, the warming of the Mediterranean Sea influences the weather in western India. As a result, there is unusually calm wind across Mumbai and surrounding regions. This has prevented the swift dispersion of air pollutants, even though Mumbai is surrounded by the ocean." He cautioned, "These changes can be associated with the impacts of climate change and such high pollution events are only expected to increase in Mumbai in the coming years."
The reason
SAFAR's analysis of the prevailing poor air quality shows that the emission levels from industries may not be the sole factor, he said. "The visibility across Mumbai took a hit during [November and December]. This means both fine (PM2.5) and coarse (PM10) particulate matter were high in Mumbai. Our data also validates that. If industries or refineries were the major sources of air pollution, then only PM2.5 would have been high. Thus, it is construction dust (part of residential emissions) which has increased PM2.5 and PM10, worsening Mumbai's air quality," Dr Beig added. As per SAFAR, the transport sector accounts for 30% of the city's pollution, industries 18%, biofuel or residential emissions 20%, windblown dust 15% and weather-related factors, including sea salt, 17%.
What experts say
Anjal Prakash, research director and adjunct associate professor, Indian School of Business, and lead IPCC author, said, "Mumbai's air quality has dipped to unhealthy levels…because of prevailing El Nino Southern Oscillation (ENSO). Scientists believe and also the last IPCC report clearly confirmed that global warming and climate change are accelerating such rapidly changing environmental conditions. This is evident in sudden and prolonged deterioration of air quality. Public health advisory is a short-term solution, but there is a need for long-term solutions, like the airshed approach."
Dr Harshal Ramesh Salve, additional professor, Centre for Community Medicine, AIIMS, said, "A few quick fixes for prolonged air pollution are public health advisories, N95 masks and putting out open fires. Chronic exposure to poor air quality worsens pre-existing disorders such as chronic obstructive pulmonary disease, asthma and cardiovascular diseases…there is also clear evidence of the association between premature mortality and air pollution."
Bhagwan Kesbhat, founder of Waatavaran, said, "To protect Mumbai residents' health, the Maharashtra government and the municipal authorities must develop a Graded Response Action Plan (GRAP) for Mumbai, which can be used whenever the air quality hits a certain threshold. There is also a need for health advisories. Sectors, including construction, rapidly expanding uncontrolled private vehicles and industrial emissions, require regulation."
Sumaira Abdulali, convenor, Awaaz Foundation, said, "One of the primary roles of BMC is to safeguard Mumbaikars' health. Despite writing to the BMC in February to issue health advisories, as had been done for COVID-19, the BMC has failed the people of this city. Health advisories will help Mumbaikars take action on a personal or institutional level."
18
No of days with poor AQI this winter
06
No of days with poor AQI last winter
225
Air quality index of Mumbai (overall) on Monday The new station at Kopri will take some load off the crowded Thane station. Do you agree?
Source: https://news.google.com/__i/rss/rd/articles/CBMiXmh0dHBzOi8vd3d3Lm1pZC1kYXkuY29tL211bWJhaS9tdW1iYWktbmV3cy9hcnRpY2xlL211bWJhaS1icmFjZS1mb3ItbW9yZS1iYWQtYWlyLWRheXMtMjMyNjAzNTbSAWJodHRwczovL3d3dy5taWQtZGF5LmNvbS9hbXAvbXVtYmFpL211bWJhaS1uZXdzL2FydGljbGUvbXVtYmFpLWJyYWNlLWZvci1tb3JlLWJhZC1haXItZGF5cy0yMzI2MDM1Ng?oc=5