MUMBAI: On the 200th day since Covid-19 struck Maharashtra, the state reported a dip in cases but for the second day in a row added over 400 fatalities. The state reported 19,164 cases and 459 deaths on Thursday, taking its total cases to 12,82,963 and toll to 34,345. Mumbai also registered a slight dip in the daily tally of cases with 2,163 reported on Thursday, taking its tally to 1,92,301. The number of deaths in the city were 54—the highest single-day toll in 47 days. While 38 of the 54 victims had comorbidities, 43 were over 60 years old.
Officials have attributed the large number of deaths to book-keeping. Of the total 459 deaths, 256 were from the last 48 hours, 125 from last week and 78 from the period before that, the state update said.
BMC commissioner I S Chahal told a CII conference on healthcare that BMC would work towards increasing the number of tests to 20,000 a day as CM Uddhav Thackeray had told the Centre the state's testing capacity would be increased to conduct 1.5 lakh tests daily. "We in Mumbai have the capacity to conduct 1,000 RT-PCR tests and the rest are antigen tests, but I prefer RT-PCR tests and we will work towards increasing its numbers," said Chahal. AMC Suresh Kakani said BMC has contacted more private labs to conduct RT-PCR tests in a bid to increase testing capacity.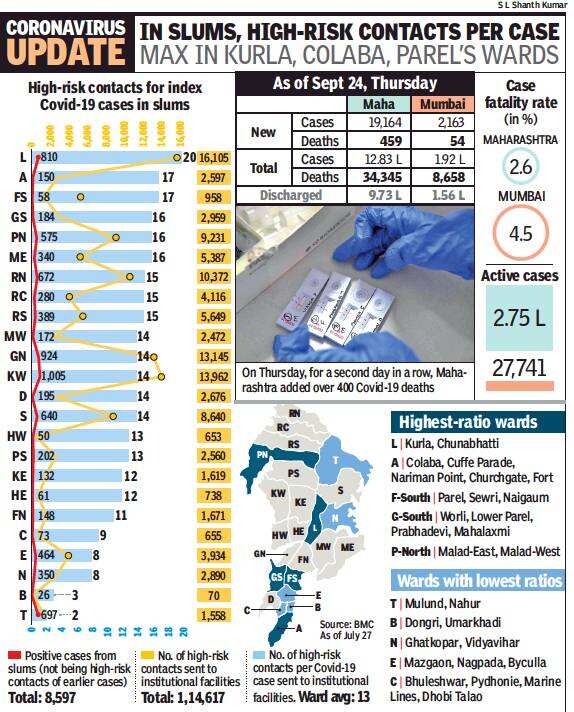 Pune region added the highest cases while MMR reported the most fatalities. MMR reported 4,740 cases and 97 deaths, taking its cases to 4.5 lakh and deaths to 15,178. Pune region added 4,956 cases and 94 deaths.
Except for Kalyan-Dombivli, the rest of MMR registered a slight drop in cases. Kalyan-Dombivli saw 469 cases and 4 deaths. Thane city saw 389 new cases and 8 deaths. In Navi Mumbai, 325 cases were reported and 5 deaths. The PCMC areas reported 264 cases and five deaths. A total of 17,184 people recovered on Thursday, taking the state's total recoveries to 9.7 lakh and the rate of discharge to 75.8%.
(Inputs by Pradeep Gupta, Manoj Badgeri and BB Nayak)
Source: https://timesofindia.indiatimes.com/city/mumbai/covid-19-mumbai-toll-54-highest-in-47-days-bmc-wants-to-do-20000-tests-daily/articleshow/78306767.cms