Covid testing in progress at the Navi Mumbai Mahanagar Palika's Meenatai Thackrey Hospital in Nerul East
Maharashtra, Mumbai, Pune Coronavirus News Live Updates: Maharashtra's COVID-19 case tally rose to 11,45,840 on Thursday with the addition of 24,619 cases, the state health department said. With 398 patients dying during the day, the death toll in the state reached 31,351. A total of 19,522 patients were discharged on Thursday after treatment, taking the number of recoveries in the state to 8,12,354 and the state now has 3,01,752 active cases.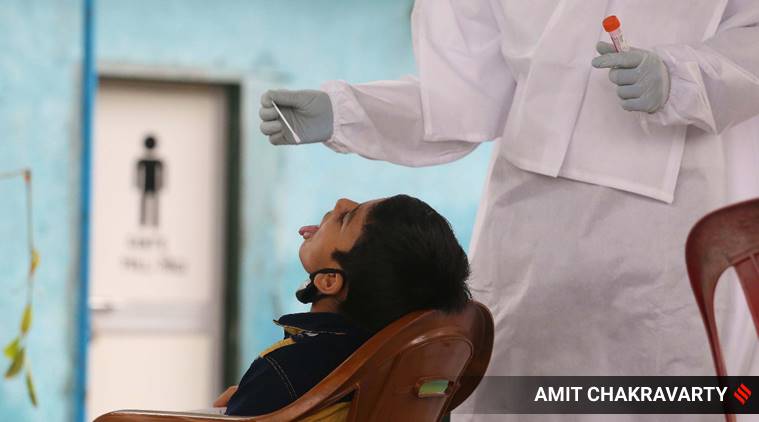 Covid screening camp in progress at Trombay Koliwada on Friday, August 7, 2020. (Express Photo by Amit Chakravarty)
Maharashtra Coronavirus Live Updates:
An officer of the NCB team probing into the narcotics case, in which actor Rhea Chakraborty along with 17 others has been arrested, tested positive for Covid-19 on Wednesday. Four other members of the SIT have tested negative.
"All members of the NCB SIT got tested for Covid-19. The team member, who was earlier tested positive, has been quarantined and all other team members tested negative," K P S Malhotra, Deputy Director, NCB, said.
Meanwhile, the BMC has sought help from corporators to conduct 'My Family, My Responsibility' campaign in Mumbai as part of the state government's outreach campaign to check the health status of over 40 lakh households in Mumbai to contain the spread of Covid-19.
Source: https://indianexpress.com/article/cities/mumbai/maharashtra-coronavirus-live-updates-pune-mumbai-thane-6599124/