Kangna Ranaut at Chandigarh airport on Wednesday. (Express photo by Jasbir Malhi)
Kangana Ranaut Live News Updates: The Bombay High Court on Wednesday stayed the demolition of alleged unauthorised structures at an office of actor Kangana Ranaut, hours after the Brihanmumbai Municipal Corporation (BMC) had started the exercise. "We cannot help but mention here that if the MCGM (Municipal Corporation of Greater Mumbai) would act with similar swiftness qua the numerous unauthorized constructions, the City would be a completely different place to live in," the court said.
The BMC team had arrived at Ranaut's office in Bandra West around 10.30 am, and claimed to have demolished almost 75 per cent of the "unauthorised" additions and extensions by the time the court stay came after noon. The rest would be razed after the High Court stay is vacated, officials said.
In a video message posted on Twitter in Hindi, Ranaut attacked Chief Minister Uddhav Thackeray and said she would make a movie on Kashmiri Pandits as she now understood their "situation and pain".
Meanwhile, Nationalist Congress President Sharad Pawar Tuesday broke ranks with ally Sena to question the BMC's action. "I don't know if there was anything illegal (about the office)…It won't be appropriate to comment on this without having proper information. Illegal construction isn't a new thing in Mumbai. In view of the prevalent situation, the BMC's actions give space to raise doubt in people's minds. However, BMC has its own rules and officers may have found it appropriate to take the action," Pawar said.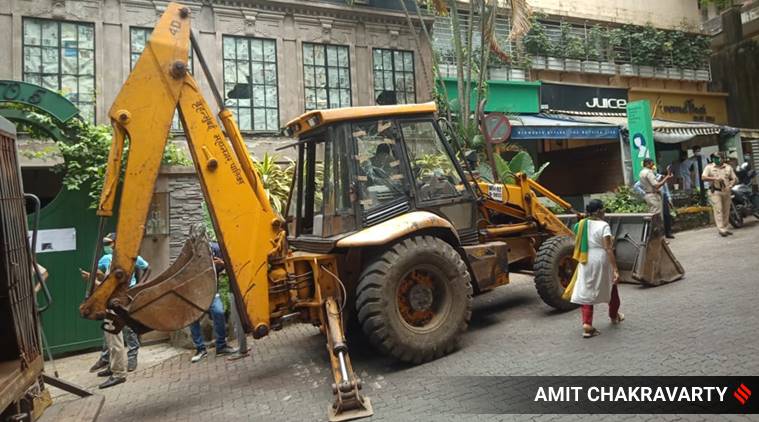 Bulldozer outside Kangana Ranaut's Mumbai office
Kangana Ranaut had purchased the bungalow in 2017 and had renovated it in January this year.
On Tuesday, the BMC had issued a notice under section 354(A) of the Mumbai Municipal Corporation (MMC) Act, directing the actor to stop the ongoing work on the premises and produce the permissions for the "illegal" constructions. She was given 24 hours to file a reply with documentary evidence. The civic body had also filed a 'caveat' in a local court, saying it should be heard first if Ranaut challenges a stop-work notice issued to her.
As per the notice, the ongoing renovation and finishing work inside the bungalow was "beyond the approved plan". Some of the illegal constructions mentioned in the notice include the conversion of a toilet on ground floor into an office space, construction of a kitchen inside a storeroom and new toilets near a storeroom, conversion of a balcony into a habitable area, merger of one bungalow with another, and extension of the third floor
Earlier this week, the Ministry of Home Affairs (MHA) had accorded Y+ category security to Bollywood actress Kangana Ranaut after she expressed threat to her life as she spoke about drug use among a section in the film industry, following the death of actor Sushant Singh Rajput.
Source: https://indianexpress.com/article/cities/mumbai/kangana-ranauts-mumbai-office-demolition-live-updates-bmc-6588945/