The state on Saturday reported a single-day highest spike of 16,867 coronavirus cases which pushed its case tally to 7,64,281, the state health department said.
Maharashtra, Mumbai, Pune Coronavirus News Live Updates: The Maharashtra government on Monday lifted restriction on inter-district movement of persons and goods, and raised attendance in its offices as it announced a slew of relaxations while extending the general COVID-19-enforced lockdown in the state till September 30. It said hotels and lodges will be allowed to operate at 100 per cent capacity from September 2, but schools, colleges, cinema halls and swimming pools will continue to remain closed till September 30.
Maharashtra's COVID-19 tally rose to 7,92,541 with the state reporting 11,852 new cases on Monday, the health department said. With 184 new deaths, the state's fatality count rose to 24,583. The department said of the 184 deaths reported on
Monday, 143 were from the past 48 hours, while 32 from last week.
Five districts of Maharashtra have recorded over a 400 per cent rise in Covid-19 cases since last month. Officials said they are struggling to create adequate critical care treatment facility in these districts – Beed, Sangli, Kolhapur, Osmanabad and Nagpur – which have also shown a massive rise in the toll.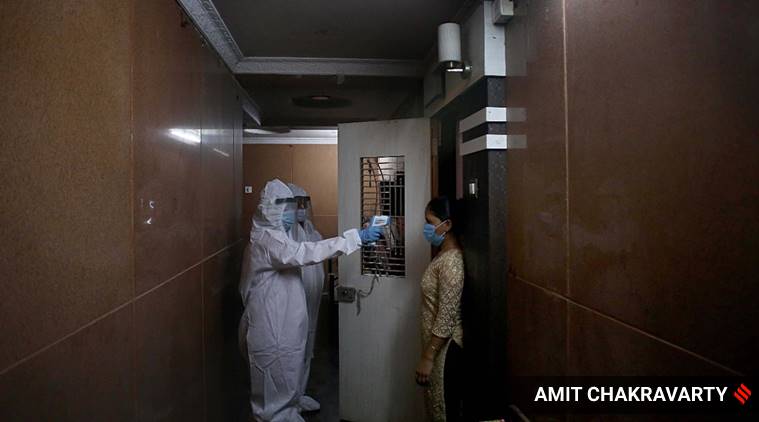 Door to door screening for temperature and oxygen level by health workers in Mankhud area. (File)
As many as 7,690 patients were discharged on Sunday following recovery, it added.
With this, the number of recovered patients has gone up to 5,62,401.
There are 1,93,548 active cases in the state at present.
Mumbai reported 1,237 cases and 30 deaths during the day. With this, the case count in Mumbai is 1,44,626 and death toll 7,626.
In the Mumbai Metropolitan Region (MMR), Navi Mumbai recorded 488 new cases and Kalyan Dombivali 366 cases.
Pune city reported 1,663 cases, Pimpri Chinchwad 1,072 cases, Nagpur city 836, Nashik city 1,049, Kolhapur city 305 cases, Sangli city 297, Latur 154 and Nanded 128 cases on Sunday.
Out of the 296 deaths reported on the day, 220 were from the last 48 hours, 43 are from last week, rest 33 were from the period before last week, the health department said.
The state's recovery rate is now 72.04 per cent and the fatality rate is 3.13 per cent.
So far, 40,84,754 people have been tested across the state.
Maharashtra's Covid-19 tally is: Positive cases 7,80,689, deaths 24,399, recoveries 5,62,401, active cases 1,93,548, people tested 40,84,754. (PTI)
Source: https://indianexpress.com/article/cities/mumbai/maharashtra-unlock-4-0-guidelines-coronavirus-live-updates-mumbai-pune-cases-deaths-tracker-vaccine-sero-survey-6575737/