An 816-bed jumbo Covid-19 facility was inaugurated at Nehrunagar in Pimpri-Chinchwad on Wednesday. (Express Photo: Rajesh Stephan)
Maharashtra, Mumbai, Pune Coronavirus News Live Updates: Maharashtra has 7.18 lakh cases of the novel coronavirus, or one-fourth of India's total caseload. On Wednesday, the state detected 14,888 new infections, takings its tally to 7,18,711, including 1,72,873 patients under treatment, 5,22,427 who have recovered and 23,089 deaths.
In state capital Mumbai, 1,854 new cases and 28 deaths were reported Wednesday, taking the total number of infections in the city to 1,39,537 and the toll to 7,505. After three days of reporting less than 1,000 cases, the sharp increase of 1,854 cases on Wednesday was blamed on "a technical error in the ICMR portal", which led to a fluctuation in numbers. Further, due to Ganesh Chaturthi, less tests were conducted in the city, due to which lesser cases were detected.
Pune, meanwhile, reported 3,804 new cases and 62 deaths on Wednesday. The city now has 1,53,141 total positive cases and 3,804 deaths.
In other news, Chief Minister Uddhav Thackeray Wednesday said his government would replicate the 'chase the virus' mission in Mumbai across the state, to help curb the spread of the disease. "The initiative was launched with the aim to reach out to people and treat them, rather than waiting for them to reach out to the doctors. It has been successful in Mumbai and therefore it should be replicated across the state. We need to identify, isolate and test people by reaching their doorsteps," he said.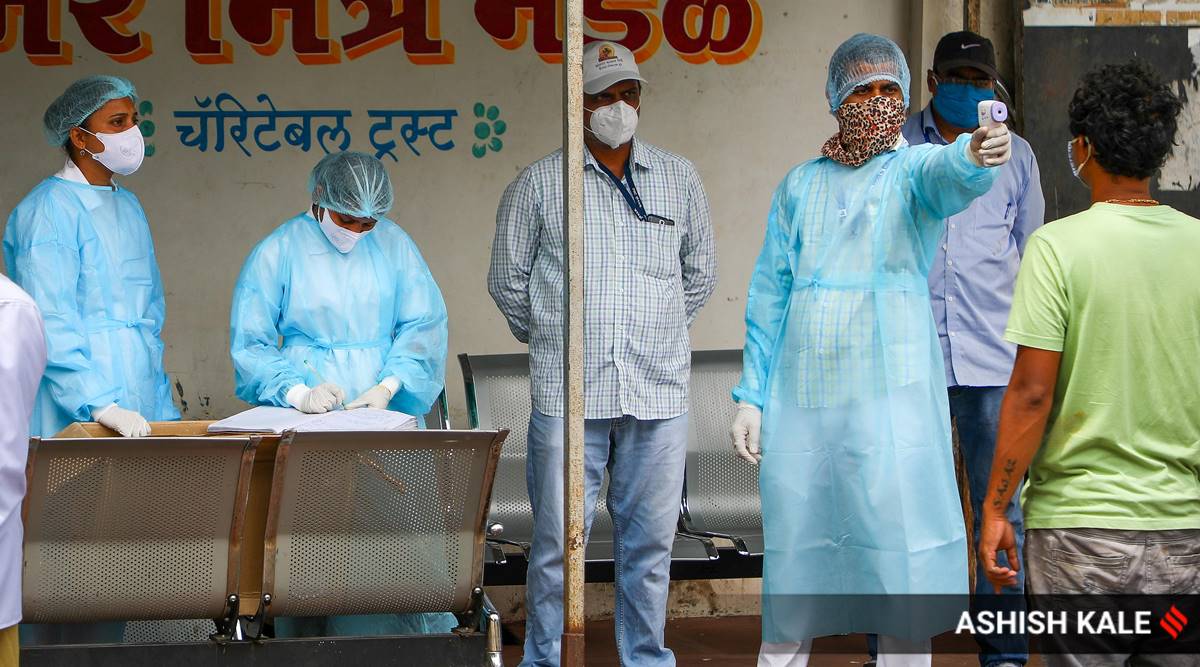 Maharashtra, Mumbai, Pune Coronavirus Live Updates: PMC medical staff conduct health check-up camp at Golandas chauk in Wadarwad in Pune. (Express Photo: Ashish Kale)
Maharashtra, Mumbai, Pune Coronavirus Live Updates:
The vaccine candidate, developed by Jenner institute of Oxford University, will be launched under the brand name "Covishield" in India. The Serum Institute has tied up with British-Swedish pharmaceutical firm AstraZeneca to produce 1 billion doses of the vaccine in the country.
The vaccine is made from a weakened version of a common cold, adenovirus, taken from chimpanzees and genetically modified. The vaccine candidate – ChadOx1NcOV – has shown encouraging results in early human trials, according to experts. Results of the phase 1/2 trial, published in 'The Lancet' medical journal, shows that the vaccine had induced strong immune response.
Meanwhile, the Bombay High Court on Tuesday directed the state government to provide copies of the latest medical reports of Sudha Bharadwaj, Anand Teltumbde and Vernon Gonsalves, accused in the Elgaar Parishad case, to their families, lawyers and the National Investigation Agency (NIA) before the next hearing on August 28. The court held the accused and their families had a right to know the status of their health and should be given the reports without any delay.
A division bench of Justices R D Dhanuka and V G Bisht was hearing interim bail plea by activist Sudha Bharadwaj, a co-accused in the case, on medical grounds and due to co-morbidities in view of Covid-19 outbreak in prisons. While Bhardwaj is lodged in Mumbai's Byculla Women's Jail, Teltumbde and Gonsalves are lodged at Taloja Central Jail in Navi Mumbai.
Source: https://indianexpress.com/article/cities/mumbai/maharashtra-coronavirus-weather-today-live-updates-cases-death-toll-tracker-vaccine-pune-mumbai-6570233/