A plasma donation banner urging recovered Covid-19 patients to donate plasma at Sassoon hospital.
Maharashtra, Mumbai, Pune Coronavirus News Live Updates: Maharashtra on Wednesday reported a single-day highest spike of 14,888 coronavirus cases which took the case count to 7,18,711, a health official said. The previous highest increase in the cases was 14,492, recorded on August 21.
On Wednesday, the death toll in Maharashtra due to the pandemic reached 23,089 with addition of 295 fatalities. On the other hand, 7,637 patients were discharged from hospitals, taking the number of recovered cases to 5,22,427.
There are 1,72,873 active cases in the state now, the health official said. In state capital Mumbai, 1,854 new cases and 28 deaths were reported during the day. The total number of COVID-19 cases in the city thus rose to 1,39,537 and death toll to 7,505.
The number of active cases in Mumbai is 18,979. Pune city reported 1,640 new cases along with 37 deaths.
Meanwhile, the Phase 2 human trials of Oxford University's Covid-19 vaccine, manufactured at the Pune-based Serum Institute of India, began on Tuesday, with the first dose of vaccine set to be administered to six trial participants at the Bharati Vidyapeeth Medical College and Hospital in Pune on Wednesday. On Tuesday, as part of the process, the three men and women each were screened. They will be administered the vaccine if their RT-PCR and antibody test reports are clear.
On the other hand, Mumbai has received 1,044.8 mm rain between August 1 and 25, breaking a decade-long record of maximum August rainfall at 1,036.5 mm in 2010. The all-time highest August rain — at 1,254 mm — was recorded in 1958.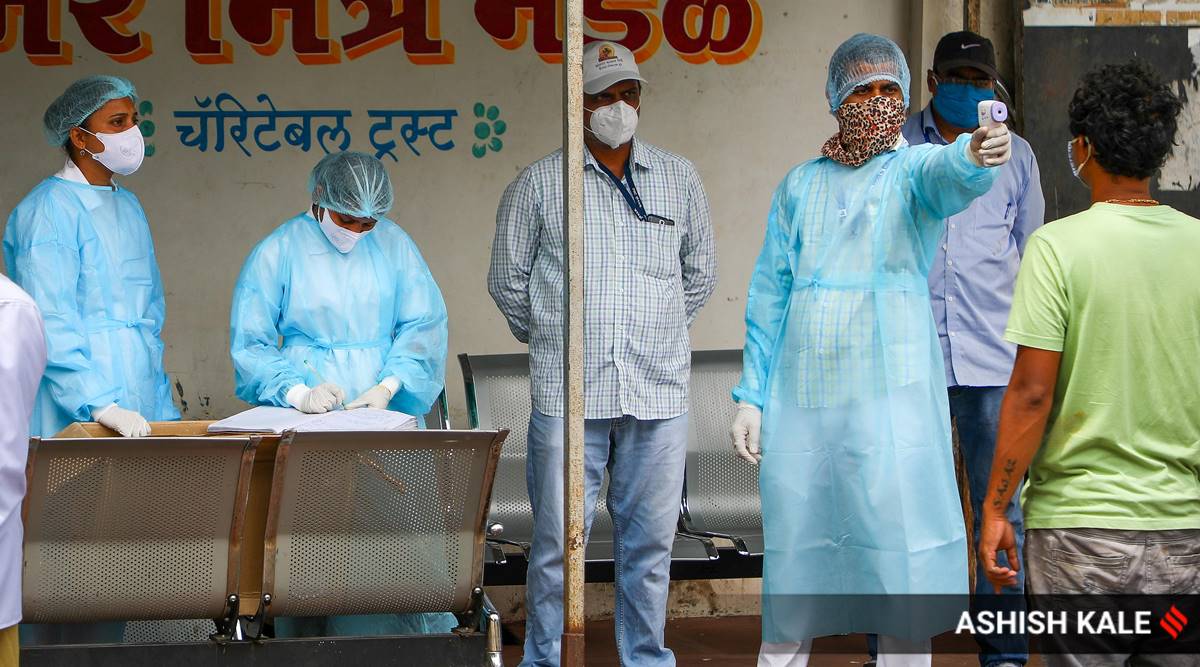 Maharashtra, Mumbai, Pune Coronavirus Live Updates: PMC medical staff conduct health check-up camp at Golandas chauk in Wadarwad in Pune. (Express photo/Ashish Kale/File)
Maharashtra, Mumbai, Pune Coronavirus Live Updates:
The vaccine candidate, developed by Jenner institute of Oxford University, will be launched under the brand name "Covishield" in India. The Serum Institute has tied up with British-Swedish pharmaceutical firm AstraZeneca to produce 1 billion doses of the vaccine in the country.
The vaccine is made from a weakened version of a common cold, adenovirus, taken from chimpanzees and genetically modified. The vaccine candidate – ChadOx1NcOV – has shown encouraging results in early human trials, according to experts. Results of the phase 1/2 trial, published in 'The Lancet' medical journal, shows that the vaccine had induced strong immune response.
Meanwhile, the Bombay High Court on Tuesday directed the state government to provide copies of the latest medical reports of Sudha Bharadwaj, Anand Teltumbde and Vernon Gonsalves, accused in the Elgaar Parishad case, to their families, lawyers and the National Investigation Agency (NIA) before the next hearing on August 28. The court held the accused and their families had a right to know the status of their health and should be given the reports without any delay.
A division bench of Justices R D Dhanuka and V G Bisht was hearing interim bail plea by activist Sudha Bharadwaj, a co-accused in the case, on medical grounds and due to co-morbidities in view of Covid-19 outbreak in prisons. While Bhardwaj is lodged in Mumbai's Byculla Women's Jail, Teltumbde and Gonsalves are lodged at Taloja Central Jail in Navi Mumbai.
Source: https://indianexpress.com/article/cities/mumbai/maharashtra-coronavirus-weather-today-live-updates-cases-death-toll-tracker-vaccine-pune-mumbai-6570233/