Raigad building collapse: The NDRF conducts rescue operations to search for trapped residents of Tarique Garden.

Raigad Building Collapse Live Updates: At least 10 people died after a building collapsed in a residential area of Mahad in Maharashtra's Raigad district on Monday. The victims were identified as Sayyed Samir (45), Naveed Zamane (35), Nausin Nadim Bangi (30) and Aadi Hashim Shaiknag (16). One of the victims was not a resident of the building, named Tarique Garden, but had suffered injuries in the accident, and died of a cardiac arrest while under treatment. So far, 78 people have been rescued from the debris.
Tarique Garden, not more than 10 years ago, was a ground-plus-four structure. Around 40 families resided in the building. At 6.50 pm Monday, the top three floors collapsed. Some residents managed to escape before it came down.
Three teams of the National Disaster Response Force (NDRF) were deployed to the site of the accident late Monday, to join rescue operations conducted by the local police and fire brigade. A green corridor was created from Pune to Raigad to created a swift passage for the NDRF teams.
Meanwhile, the Raigad Police Tuesday registered a case under Sections 304, 304 A, 337, 338 and 34, against five persons.
Prime Minister Narendra Modi Tuesday said he was saddened by the incident, and prayed the injured recovered soon. "Saddened by the building collapse in Mahad, Raigad in Maharashtra. My thoughts are with the families of those who lost their dear ones. I pray the injured recover soon. Local authorities and NDRF teams are at the site of the tragedy, providing all possible assistance," he said in a statement released by the Prime Minister's Office. (Also read Maharashtra Coronavirus Live Updates)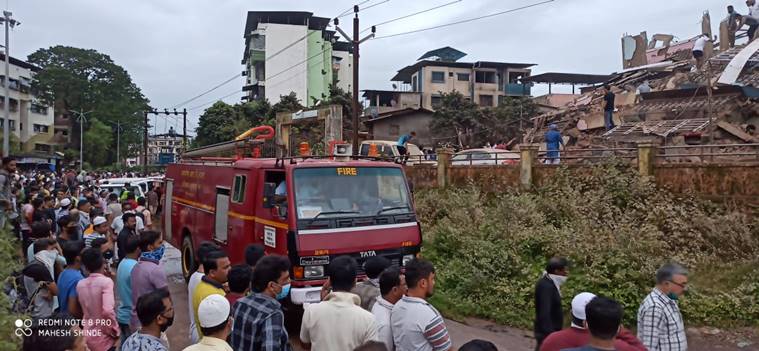 A fire engine moves towards the collapse site in Mahad. NDRF teams have also been sent for. (Express Photo)
A five-storey residential building collapsed in Mahad town of Raigad district, 170 km from Mumbai, on Monday evening, killing at least one person. While 15 people, including seven who suffered injuries, were rescued till 10 pm, district officials estimate that at least 70 people are trapped under the debris.
The top three floors of the structure, known as Tarique Garden, collapsed around 6.50 pm. Eyewitnesses said the building, which is estimated to be not more than 10 years old, began shaking with some residents managing to rush out before it collapsed.
Local rescue teams, including police and fire brigade, were immediately pressed into service. Three National Disaster Response Force (NDRF) teams from Pune were set to join rescue operations late at night. An official from NDRF said that visuals of the building denote that it was a "pancake collapse", a term used for a fall that occurs from the top floors to the lower ones.
Source: https://indianexpress.com/article/cities/mumbai/maharashtra-5-storey-building-collapses-near-mumbai-several-feared-trapped-6568225/