Covid-19 testing in Mumbai. (Express Photo by Amit Chakravarty)
Maharashtra, Mumbai, Pune Coronavirus News Live Updates: Maharashtra reported around 12,614 new cases of coronavirus on Saturday, taking the state's total tally to 5,84,754, PTI quoted the state health department as saying.
With 322 deaths during the past 24 hours, the state death toll climbed to 19,749, the health department said.
As many as 6,844 patients were discharged from hospitals on Saturday, taking the total number of recoveries to 4,08,286, the department said. There are 1,56,409 active cases at present.
Mumbai reported 1,254 new cases and 48 deaths on Saturday. Pune district, meanwhile, recorded 2,432 new Covid-19 cases on Saturday, bringing its total tally to 1,22,397, PTI quoted a health official as saying.
The death toll touched 2,957, with 62 deaths in the last 24 hours. As many as 1,145 patients were discharged from hospitals.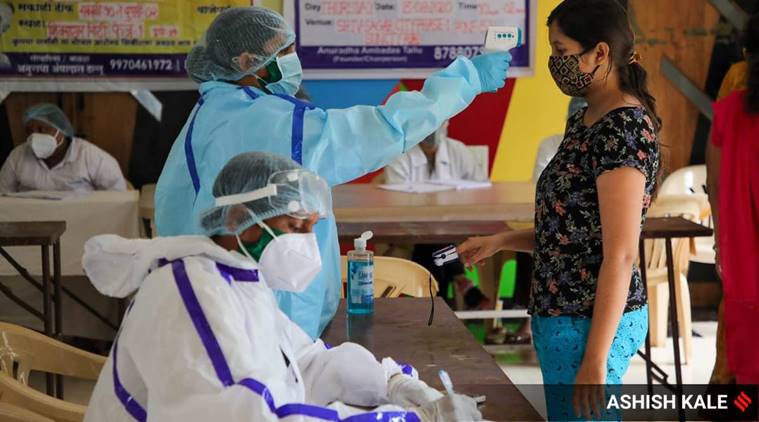 PMC health staff conduct thermal scanning in a society on Sinhagad road, Pune, on Thursday. (Express photo by Ashish Kale)
Senior BJP leader Devendra Fadnavis Saturday termed Maharashtra as the "COVID capital" of the country, PTI reported. He stressed that testing needs to be ramped up to check the spread of coronavirus and to bring the fatality rate under control.
"Maharashtra has become the COVID capital of the country as the state accounts for 24 per cent of the total number of cases in India. The state also accounts for 41 per cent of the total deaths in the country," Fadnavis said.
"Conducting antigen tests is a good thing but the number of RT-PCR tests should be increased," the former CM said, adding that the current ratio of RT-PCR and antigen tests is 1:2, which should be equal.
Meanwhile, Maharashtra Corporation Minister Balasaheb Patil tested positive for coronavirus and is undergoing treatment at a hospital in Karad, reported PTI.
The NCP leader tested positive on Friday night, according to a statement issued by his office.
Earlier, Maharashtra ministers Ashok Chavan and Aslam Shaikh of the Congress, Jitendra Ahwad, Dhananjay Munde and Sanjay Bansode of NCP, and Abdul Sattar of the Shiv Sena have tested positive for the virus and recovered from it.
Source: https://indianexpress.com/article/cities/mumbai/maharashtra-mumbai-pune-coronavirus-live-updates-6556695/