Till now, Maharashtra has reported 5.6 lakh cases and a death rate of 3.4 per cent. In all, 3.9 lakh patients have recovered.
Maharashtra, Mumbai, Pune Coronavirus News Live Updates: With the spread of Covid-19 to over 300 villages in Aurangabad district, state minister Subhash Desai has instructed the authorities to increase testing in rural areas. "At least 15 contacts of a positive patient should be traced. Besides, people should be tested before they enter villages," Desai, who is also the district guardian minister, asked the officials to enhance contact tracing of patients, was quoted as saying by news agency PTI.
The number of coronavirus cases in Aurangabad district climbed to 18,259 after 292 persons tested positive on Friday, officials said. The death toll in the district went up to 576 after four patients succumbed to the infection, while 220 were discharged after recovery on Friday.
The state witnessed 12,608 cases on Friday, taking the total tally to 5,72,734, the state health department said. The death of 364 patients during the day marked the fatality count at 19,427, it said in a statement. As many as 10,484 patients were discharged on Friday following their recovery, the department added. With this, a total of 4,01,442 COVID-19 patients have recovered in the state till now.
Ahead of the 10-day Ganesh festival beginning on August 22, private hospitals are appealing to staff nurses and healthcare staff not to take leave as ICU and isolation wards continue to remain full with Covid-19 patients.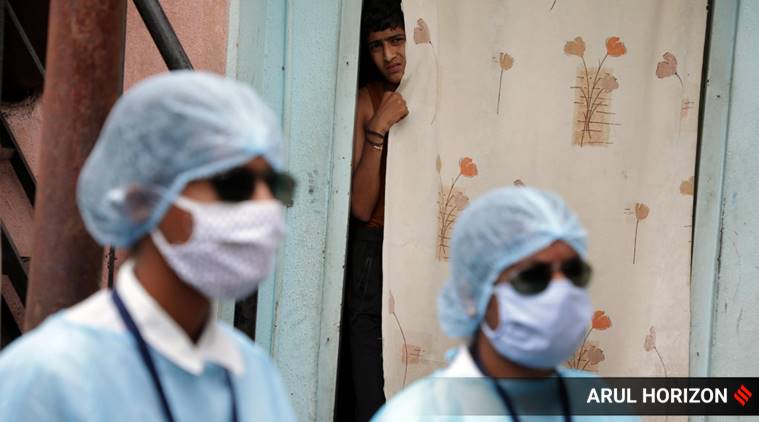 Maharashtra, Mumbai, Pune coronavirus Live updates: At least 11,813 new cases were recorded in the state on Thursday, of them 1,200 are from Mumbai and 1,148 from Pune city.
Maharashtra, Mumbai, Pune coronavirus Live updates:
Maharashtra officials said of the 413 deaths reported on Thursday, while 288 people had died in the last 48 hours, 74 had succumbed in the last one week and 51 prior to that. Of the 413 deaths, Pune recorded 48, followed by Kolhapur city and rural (36), Pune rural (25), Thane city and rural (21), Satara (20), Pimpri-Chinchwad (19), Kalyan-Dombivali (13), Jalgaon and Nagpur (12) and Vasai-Virar (10).
At least 11,813 new cases were recorded in the state on Thursday, of them 1,200 are from Mumbai and 1,148 from Pune city.
Meanwhile, with the National Eligibility Cum Entrance Test (NEET) for admission to super-specialty courses scheduled for September 15, recruiting specialist doctors, even on a contract basis for Covid care, has become a challenge. For instance, only six specialists sent in online applications as against 204 posts advertised by Pune Zilla Parishad.
Cannot let Jain temples open for festival in August owing to Covid-19: Maharashtra tells HC
The Maharashtra government Thursday told the Bombay High Court that it cannot allow Jain temples in Mumbai Metropolitan Region (MMR) and Pune to open for Paryushan from August 15 to 23. "If temples are allowed to open, there is an imminent danger of coronavirus that may result in loss of life," the state government said.
The state's response came after the high court Tuesday directed it to consider representations from the Jain community seeking permission to visit Jain temples during the eight-day Paryushan festival and submit its decision to the court by August 13.
On Thursday, a Division Bench of Justices S J Kathawalla and Madhav Jamdar was hearing two petitions filed by Ankit Vora and Shree Trustee Atma Kamal Labdhisurishwarji Jain Gyanmandir Trust. The petitioners sought a direction to the state government to allow the members of the community to visit Jain temples to perform prayers, more particularly during Paryushan.
Source: https://indianexpress.com/article/cities/mumbai/maharashtra-mumbai-pune-coronavirus-live-updates-cases-deaths-tracker-vaccine-icmr-6553988/