MUMBAI: It was not just an August record that the heavy rain in the city notched up on Wednesday. The India Meteorological Department's (IMD) Colaba observatory recorded 331.8mm of rainfall in a span of 24 hours between 8am on August 5 (Wednesday) and 8am on August 6 (Thursday), which is the second highest seasonal rain after 575.6mm reported 46 years ago, on July 5, 1974.
The 293.8mm of rain recorded in 12 hours on Wednesday had been the most in 24 hours for the month of August since 1974.
BMC chief Iqbal Chahal said the over 300mm rain was even more than what south Mumbai had experienced during the 2005 deluge. IMD's Colaba observatory had recorded 73.4mm of rain in a span of 24 hours on July 26-27, 2005, while the suburbs, then hit very badly, had reported 944mm rain.
The weather bureau, however, said reduction in rain activity could be expected from Friday and there would be light to moderate rainfall between August 7 and 9 (Sunday). While several pockets of the city experienced rainfall on Thursday, it was not as intense as in the past three days.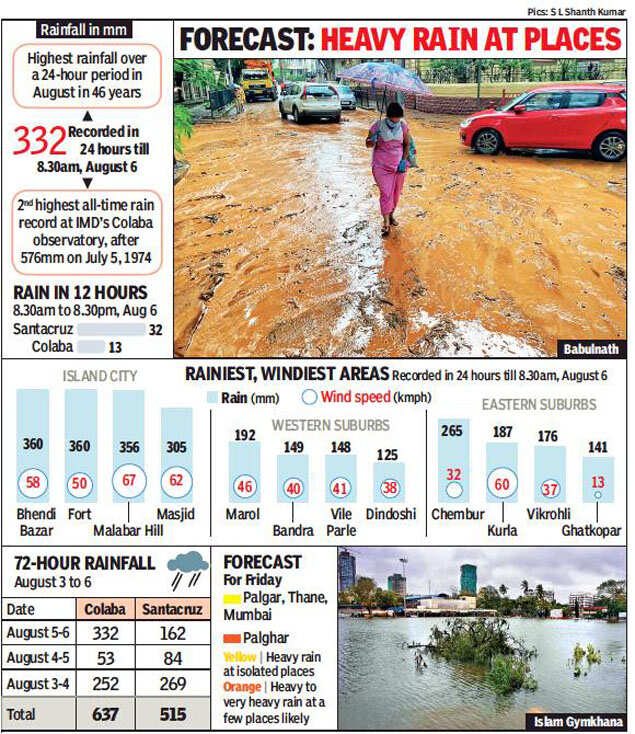 The city and suburbs got over 500mm of rain in a matter of 72 hours. Between August 3 and 6, total rainfall reported by IMD's Colaba observatory was 637.2mm, while the Santacruz observatory reported 515.2mm.
Though the rain was accompanied by high-velocity gusty winds, the IMD clarified it wasn't a cyclone. "August 5 was a windy day in Mumbai and around, with strong gusty winds along with intense rain. There is some confusion among a few that it was a cyclone. I wish to clarify that the severe weather was not a cyclone. Such strong gusty winds are a part of vigorous monsoon conditions," said KS Hosalikar, deputy director general (western region), IMD.
However, BMC authorities said gusty winds of up to 100 kmph had not been forecast.
Asked if the new integrated flood warning system (IFLOWS) launched in June this year to provide early warning for floods, especially during heavy rainfall and cyclones, did not help, civic authorities said the system is yet to be developed fully.
The development of the system was initiated by the Ministry of Earth Sciences (MOES) by using the expertise of IMD, National Centre for Medium Range Weather Forecasting (NCMRWF), Indian Institute of Tropical Meteorology (IITM) and National Centre for Coastal Research (NCCR), in close coordination with the BMC's disaster management department. A senior BMC official said that on Friday, they will hold a meeting with the NCCR on the subject.
"Such gusty winds for South Mumbai accompanied with heavy rain have not occurred in the recent past," an official said.
Source: https://timesofindia.indiatimes.com/city/mumbai/24-hour-downpour-in-city-is-2nd-heaviest-ever-recorded/articleshow/77403525.cms