Pass percentage soars by 20 from last year, two score 100%; in state 95.3 % students pass.

The Mumbai division has posted its best performance since 2015 in SSC exams. Reclaiming lost ground, it has boosted results by nearly 20 percentage points, from 77.04 per cent in 2019 to 96.72 this year (see table). Two students from the city have scored 100 per cent marks.
The state too reversed its dismal performance of last year with 95.3 per cent results; last year it was 77.1 per cent. The Konkan division has recorded the highest pass percentage of 98.77, whereas Mumbai stands at the fourth spot among the nine state board divisions.
A total of 15,75,103 students across Maharashtra took the exam this year, of which 15,01,105 students have passed. Across the state, 92.73 per cent divyang students passed the exam.

SSC Results 2020: Living on footpath, 17-year-old girl scores 40 per cent
00:49

Schools in Mumbai city (Colaba to Matunga), Mumbai suburban 1 (Bandra to Dahisar) and Mumbai suburban 2 (Sion to Mulund) have higher pass percentages of 97.1, 97.3 and 96.5, respectively. Thane, Raigad and Palghar, which are also part of the Mumbai division, have pass percentages of 96.61, 96.07 and 96.73, respectively. A total of 14,756 students have scored 90 per cent and above in the Mumbai division.
In Mumbai division, 1,714 schools out of 3,774 have posted 100 per cent results. Two students from Dadar's Balmohan Vidyamandir have scored above 99 per cent and three above 98 per cent. The St Xavier's Group of Schools, a part of Ryan International and Sharda Mandir High School are among the high scorers in the range of 95 per cent and above.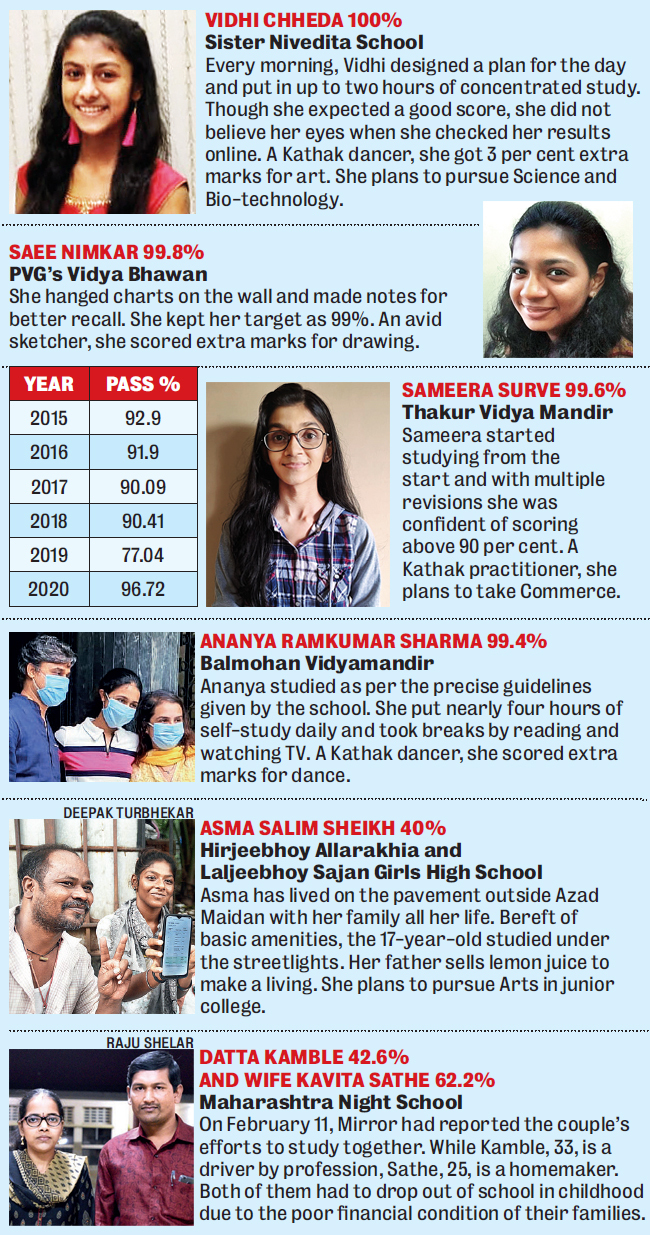 Source: https://mumbaimirror.indiatimes.com/mumbai/other/ssc-results-2020-mumbai-posts-its-best-performance-since-2015/articleshow/77252235.cms