At a Covid-19 testing center in Mankhurd on July 27, 2020. (Express Photo: Amit Chakravarty)
Maharashtra, Mumbai, Thane Coronavirus Live Updates: Maharashtra is inching towards recording 4 lakh cases of the novel coronavirus. The state reported 7,924 new infections on Monday, taking its tally to 3,83,723. There are 1,47,592 patients being treated for the disease in the state; 2,21,944 people have recovered; 13,883 have succumbed. The state makes up nearly a fourth of the number of cases across India.
Mumbai's caseload rose to 1,10,182 on Monday, after 1,012 new cases were discovered. At least 6,132 people have died from the disease in the city. The Brihanmumbai Municipal Corporation (BMC) has so far spent Rs 610 crore from its health budget and contingency fund to tackle the pandemic. For 2020-21, the civic body has allocated Rs 4,260.30 crore for health – 12.7 per cent of its total budget (Rs 33,441.02 crore).
Meanwhile, Uttar Pradesh Monday overtook Maharashtra in terms of the number of samples tested for the infection. While UP has tested 19.41 lakh samples till date, Maharashtra has tested 19.25 lakh. Tamil Nadu, however, is ahead of the two states, having tested more than 24.14 lakh samples till now.
In other news, the state-run B J Medical College and Sassoon General Hospital in Pune has reported India's first documented case of vertical transmission of Covid-19 from mother to child. The child, a girl, had recovered from the disease in three weeks.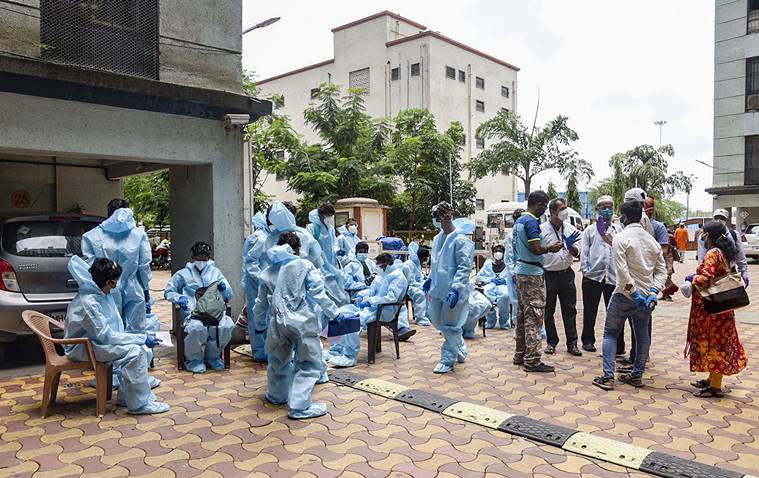 Medics wearing PPE rest during a COVID-19 check-up, at Malad in Mumbai. (PTI Photo)
Maharashtra Minister of state for environment and FDA Sanjay Bansode Sunday said he had been detected with Covid-19 and was receiving treatment at a private hospital in Mumbai, PTI reported.
The minister said he was feeling unwell since Saturday and had mild fever and a sore throat. His test results came out on Sunday, he said.
Thane district's coronavirus tally reached 78,567 on Sunday, with an increase of 1,472 cases in the last 24 hours, while the death toll rose by 38 to touch 2,153, PTI quoted an official as saying.
Navi Mumbai reported the maximum number of new cases at 338, and accounted for the highest number of deaths at ten, the official further said. Neighbouring Palghar district has as many as 13,817 cases, with 265 deaths.
Pune city reported a rise of 1,921 new cases, while neighbouring Pimpri-Chinchwad registered 900 cases. While 28 deaths were reported from Pune, ten were recorded in Pimpri-Chinchwad.
Nashik division's Covid-19 tally reached 27,862, with around 1,065 deaths, while Kolhapur has reported 6,819 cases and 182 deaths so far.
A total of 334 people from other states are being treated in Maharashtra, while 46 such people died from the infection. As many as 9,08,420 people are home-quarantined, while 44,276 are in institutional quarantine, the health department said.
Source: https://indianexpress.com/article/cities/mumbai/coronavirus-maharashtra-mumbai-pune-thane-live-latest-news-updates-today-covid-19-corona-cases-6524709/