Door-to-door screening in Govandi in Mumbai on July 21, 2020. (Express Photo: Amit Chakravarty)
Maharashtra registered 9,895 new COVID-19 cases on Thursday, taking the state-wide tally to 3,47,502, while 298 more patients succumbed to the infection, 55 of them in Mumbai, the health department said. With 298 deaths, the toll increased to 12,854, said a statement from the state health department.
Of the total new cases, Mumbai reported 1,245, Pune reported 1,801, and its neighbouring township Pimpri-Chinchwad registered 950 cases. Aurangabad city recorded 182 new cases, Nashik city recorded 383, while Solapur city reported 171.
Maharashtra accounts for over a third of India's 12,38,635 cases. The country reported 45,720 new Covid-19 cases and 1,129 deaths in the 24 hours ending 9 am Thursday, the Ministry of Health and Family Welfare said. Across the country, 4,26,167 patients are being treated for the disease, while 7,82,606 have recovered and 29,861 have succumbed. (Read Coronavirus India live updates)
A serological survey in Mumbai has found the presence of Covid-specific antibodies in nearly 25 per cent of those tested. This could mean that one-fourth of the population has been infected by the virus, if it is assumed the disease is uniformly spread in the population.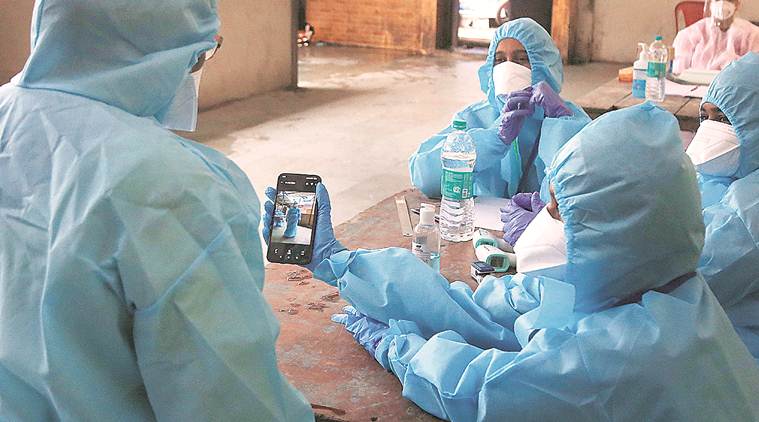 Health workers share photos of each other wearing PPE gear, at a screening camp in Mumbai (Expres photo by Amit Chakravarty)
As Covid-19 cases in Mumbai stabilise at 1,200-1,500 fresh cases a day, hospitals are slowly shifting focus to handling patients suffering from other illnesses and bringing on track other specialties. Administrators, however, say it will take several weeks before normalcy for other health services is restored.
In Hinduja hospital (Khar), which remains a non-Covid hospital, semi-elective procedures have begun and admission for laparoscopic surgery or urinary stones have been recorded.
"Elective procedures like joint replacement, cochlear implant or plastic surgeries will take time. Patients are not willing to get hospitalised due to fear of infection unless they have unbearable pain," said Dr Avinash Supe, executive director of Hinduja Khar.
Patients requiring emergency or semi-emergency procedure including heart surgery, accident, cancer, organ transplant or kidney ailment are undergoing hospitalisation but those who need procedures like cosmetic surgery, dermatology, joint or hip replacement prefer waiting. In out patient department, the hospital has noted a slight rise from last month, about 300 patients attend in a week. Before the pandemic, the hospital recorded 2,000 patients per week in OPD.
Source: https://indianexpress.com/article/cities/mumbai/live-maharashtra-coronavirus-news-updates-mumbai-pune-thane-corona-news-today-covid-19-cases-tracker-lockdown-latest-news-6517048/