Maharashtra, Mumbai, Pune Coronavirus Live Updates: Health workers decontaminate themselves before removing the PPE suits after a Covid checkup round in Navi Mumbai. (Express Photo by Amit Chakravarty)
Maharashtra, Mumbai, Pune Coronavirus News Live Updates: Maharashtra's COVID-19 tally rose to 2,30,599 on Thursday with the addition of 6,875 new cases, while 219 deaths – 68 of them in Mumbai – took the toll to 9,667, according to the state health department.
The Maharashtra unit of the Indian Medical Association (IMA) has urged the state government to grant permission to qualified and registered pathologists and microbiologists to conduct antigen tests to detect Covid-19. If the sanction is given, then testing can be immediately carried out and results will be available in 30 minutes.
Over the last two weeks, three new prisons in Maharashtra have reported coronavirus infections among inmates and staff, taking the number of affected prisons to 13 and Covid-19 cases in state prisons to 762, which includes 166 staff members. These numbers include 132 new cases among inmates of Nagpur Central Prison, reported on Thursday.
Unlike Delhi, the new infections in Maharashtra still far outnumber the daily recoveries, and that is what has been happening at the national level too. The total number of infections in the country has now crossed 7.67 lakh, out of which more than 4.76 lakh, or about 62 per cent, have already recovered from the disease. More than 21,000 people, or about 2.75 per cent of those infected, have so far died.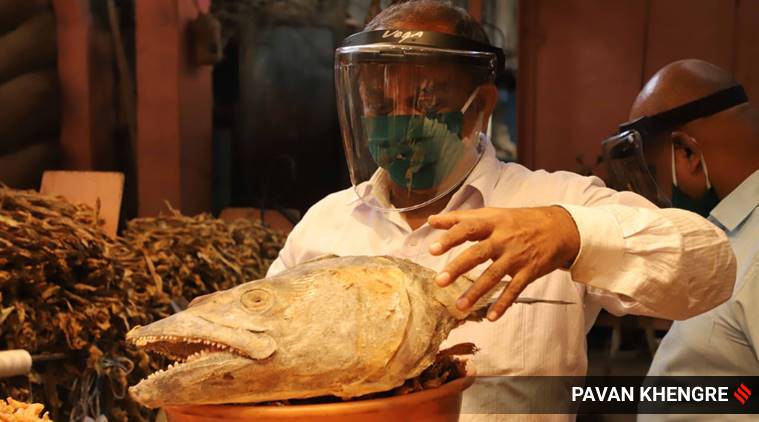 Maharashtra, Mumbai, Pune Coronavirus Live Updates: The dry fish market in Nehru chowk, Shukrawar Peth in Pune, reopened for business.
Maharashtra, Mumbai, Pune Coronavirus Live Updates:
Even as the state continues to remain the worst-affected in terms of Covid tally in the country, Dharavi, the densely populated slum in Mumbai, reported nine new cases, taking the tally to 2,347 on Thursday. Mumbai accounted for only 31 per cent of fresh deaths on Wednesday, as opposed to 58.7 per cent a month ago on June 8.
More than 300 incidents of attack on police personnel have been reported in Maharashtra during the imposition of the coronavirus-induced lockdown and subsequent relaxation of norms, PTI reported. At least 86 police personnel were injured while enforcing prohibitory orders and 863 persons have been detained in connection with over 300 attacks reported till date, the official said.
In the latest incident, an assistant police inspector sustained injuries after he was manhandled by some men at Ambi village of Paranda tehsil in Osmanabad district, he said. Meanwhile, at least 72 police personnel, including
five officers, have died of coronavirus infection so far, the official said.
After nearly over a month, the Union Health Ministry Thursday held a press briefing to address the novel coronavirus (Covid-19) situation in the country. While the ministry categorically denied India reaching the stage of community transmission, it admitted that there have been some localised outbreaks of the virus.
The Centre's assertion came on a day India registered a record single-day surge of 24,879 Covid cases, taking the caseload to 7,67,296. The death toll climbed to 21,129 with 487 new fatalities. The ministry maintained that the pandemic situation is still better in the country on the basis of cases per million population in the world.
Also Read | Maharashtra: Soon, state to fix price cap for antibody test
Read | COVID tests: Private labs under scanner, PCMC asks them to strictly adhere to norms
Source: https://indianexpress.com/article/cities/mumbai/maharashtra-coronavirus-news-live-updates-mumbai-pune-thane-palghar-covid-19-corona-cases-tracker-death-toll-lockdown-news-6498404/