Health volunteers performing temperature scanning for covid-19 symptoms at Gul Mohammed Chawl in Dharavi (File)
Maharashtra, Mumbai, Pune Coronavirus News Live Updates: Even as the state continues to remain the worst-affected in terms of Covid tally in the country, Dharavi, the densely populated slum in Mumbai, reported just one fresh case of novel coronavirus Tuesday, for the first time in three months. The last time Dharavi had recorded a single new coronavirus case was on April 5. According to the BMC, Dharavi has only 352 active COVID-19 cases as 1,735 patients have been discharged from hospitals upon recovery. Some 6.5 lakh people are estimated to live in Asia's biggest slum which is spread over 2.5 square kilometres.
Meanwhile, Maharashtra reported 5,134 fresh cases and 224 deaths in the last 24 hours, taking the tally to 2,17,121 cases including 9,250 deaths. Taking on the Cenre, the Shiv Sena said Prime Minister Narendra Modi had expressed confidence that the battle against COVID-19 would be won in 21 days, but it has been over 100 days and the crisis still persists.
Further relaxing the lockdown restrictions, the state government decided to allow markets and shops to remain open for additional two hours from July 9. Markets and shops can now remain open from 9 am to 7 pm, an extension of two hours from the existing closing deadline of 5 pm, in non-containment zones.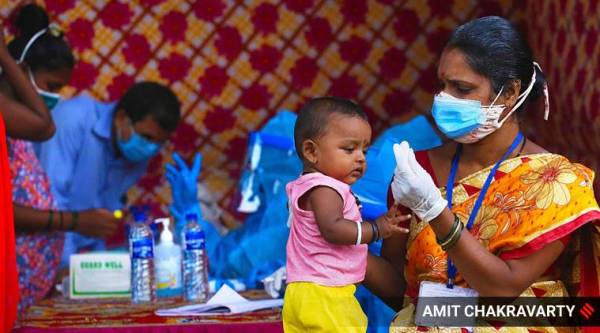 Corona Screening camp in Mankhud Transit Camp (Express Photo by Amit Chakravarty)
Within the country, five states — Tamil Nadu, Maharashtra, Andhra Pradesh, Rajasthan and Uttar Pradesh — account for half of the total tests carried out. The top three states have conducted more than a million tests each.
While Maharashtra has reported the highest number of Covid-19 cases, followed by Tamil Nadu and Delhi, it comes second in the list of highest mortality rate (4.27 per cent) after Gujarat (5.39 per cent).
On Monday, Public Health Minister Rajesh Tope announced that Maharashtra will try to bring in price capping for masks and sanitisers within eight days. "Masks and sanitisers are also essential along with following social distancing norms. Nobody should sell these items at inflated rates. We have discussed this with FDA (Food and Drug Administration) and the chief minister. In the next eight days, we will issue a notification for capping prices," he added.
The FDA, however, maintained that price capping is not possible under the Drugs and Cosmetics Act without amending the central act.
The state has also created a task force for each district, on recommendation of Chief Minister Uddhav Thackeray, to reduce the number of Covid-19 deaths. The task force will have to analyse deaths and advise measures to reduce mortality in districts. Mumbai was the first to establish such a task force to reduce spike in deaths, followed by Pune.
Source: https://indianexpress.com/article/cities/mumbai/maharashtra-mumbai-pune-coronavirus-today-news-live-updates-lockdown-district-wise-covid-19-corona-cases-deaths-recovered-news-update-6494943/