MUMBAI: In the first six days of July itself, Indian Meteorological Department's Santacruz observatory has recorded 60% of the required rainfall for the entire month. During the same period last year, too, the observatory had recorded an almost similar amount of rainfall at 63%.
Weather officials, though, say rain activity will subside in the city and have issued a green alert for Tuesday, indicating Mumbai may see light to moderate rainfall.
While the required rainfall for the month is 840.7mm, till 5.30pm on Monday, the Santacruz observatory had recorded 506.4mm, or 60% of the required rain. IMD officials said this was due to active monsoon conditions over the entire Konkan coast, including Mumbai.
July rain made up some of June shortfall; now intense wet belt has moved to Guj
Significant reduction in rainfall is expected over the west coast in the next two days. Mumbai and the adjoining districts of Thane and Raigad are expected to receive mostly moderate showers and isolated heavy fall… Heavy to very rainfall at isolated places is expected in Palghar district… The intense rainfall belt has shifted to Gujarat and its adjoining areas where heavy to very heavy rainfall with isolated extremely heavy fall is expected," said IMD in a release.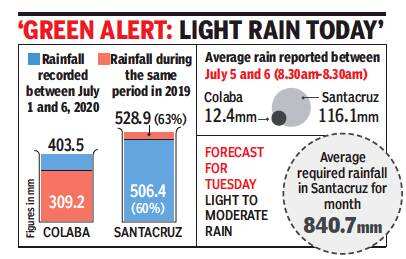 Active monsoon conditions witnessed over the past few days in and around Mumbai were much required, considering June witnessed below normal rains, said weather officials.
The IMD's Santacruz observatory had reported 395mm rain for June, which was 78% of the required 505mm rainfall for the month. In the 24 hours between July 5 and 6 (8.30am-8.30am), the suburbs reported over 100mm rain, which was in the heavy category (64.5mm-115.5mm), while south Mumbai got barely 12.4mm.
K S Hosalikar, deputy director-general (western region), IMD, said, "Mumbai's rainfall figures have swelled over the past three to four days."
The total rain reported so far by the IMD Colaba observatory is 928mm and Santacruz 896.2 mm. In case of IMD Colaba the rains were 192.9mm above normal and Santacruz 191.2mm.
On Monday, the areas that reported maximum rain were Borivli at 48.52mm, Kandivli 39.6mm and Malwani in Malad 36.82mm.
From 8.30am, the south-bound of Western Express Highway was jammed at Kandivli.
Though the intensity of the rain reduced, gusty winds blew at 45-50 kmph; during Cyclone Nisarga the winds had reached a speed of 72 kmph.
Source: https://timesofindia.indiatimes.com/city/mumbai/mumbai-gets-60-of-july-rain-quota-in-6-days/articleshow/76824596.cms