MUMBAI: Localised shortages of essential items like milk, bread, eggs and restaurant food marked the first day of the city's coronavirus lockdown. A complete closure is expected Sunday owing to the PM's 'Janata Curfew' followed by a period of dormancy over the next few days until March 31.
On Saturday vegetable markets, grocers, chemists, petrol pumps and milk booths in Borivli, Mulund and Thane functioned normally. Yet Mumbaikars remained in stockpiling mode, causing items to run out in certain areas. Milk, bread and eggs ran out of stock in parts of Andheri West and Thane.
In Kalina and Kurla, household items, diabetic medication, masks, sanitisers and cleaning fluid sold briskly. Andheri's Kokilaben Ambani Hospital's pharmacy had run out of sanitisers and masks all week, but these were available at local chemists.
Taxi and auto drivers sat idle for want of passengers. Drivers of Ola and Uber chose to not log in, with one union sayjng they would stay away till March 31. BEST spokesperson Manoj Varade said that buses ran to schedule and will do so Sunday as well to ensure that citizens out on emergency duty are not put to inconvenience.
Greengrocers in Andheri, Goregaon, Malad, Borivli, Mulund and Thane had adequate supplies. Yet customer footfalls were anaemic. Raja Patil, a vendor at the commonly crowded Khar Matket, said, "There are simply no buyers. Daily wagers have no money in hand. Sunday is a full shutdown. Police have asked us to close Monday too. Moreover, mathadi loaders of APMC have threatened to strike work that day, so it seems doubtful." Prices rose marginally Saturday. APMC Vashi traders said new stock would arrive Tuesday.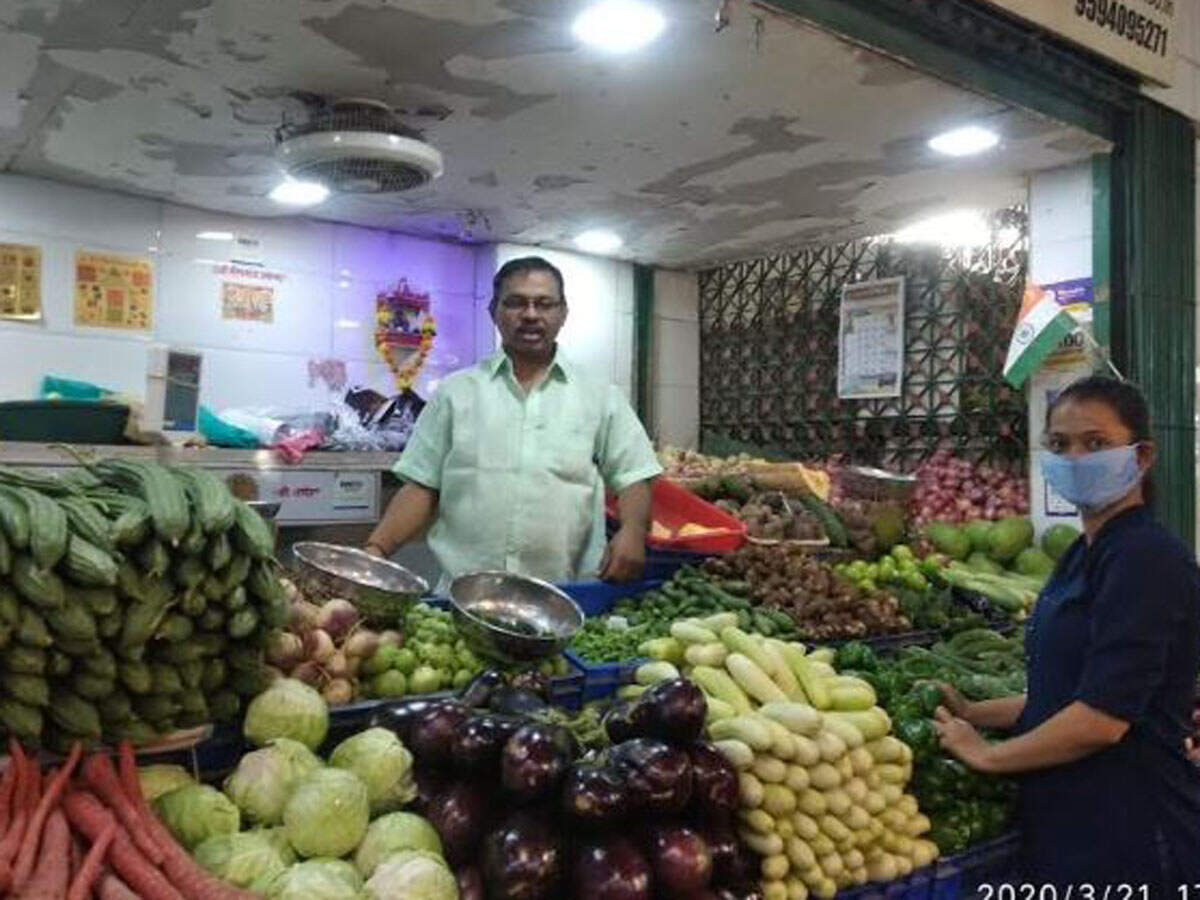 Restaurants chose to roll down shutters. Khalid Qureshi, a restaurateur from Mahim said, "People are avoiding outside food, particularly non-vegetarian items, and moreover the BMC and police have asked us to close. Under the rules we must restrict our customers to 50% of normal footfalls and keep them all three feet apart, which is impossible to monitor. It is better to shut for a few days. Two of our waiters have gone home to their villages."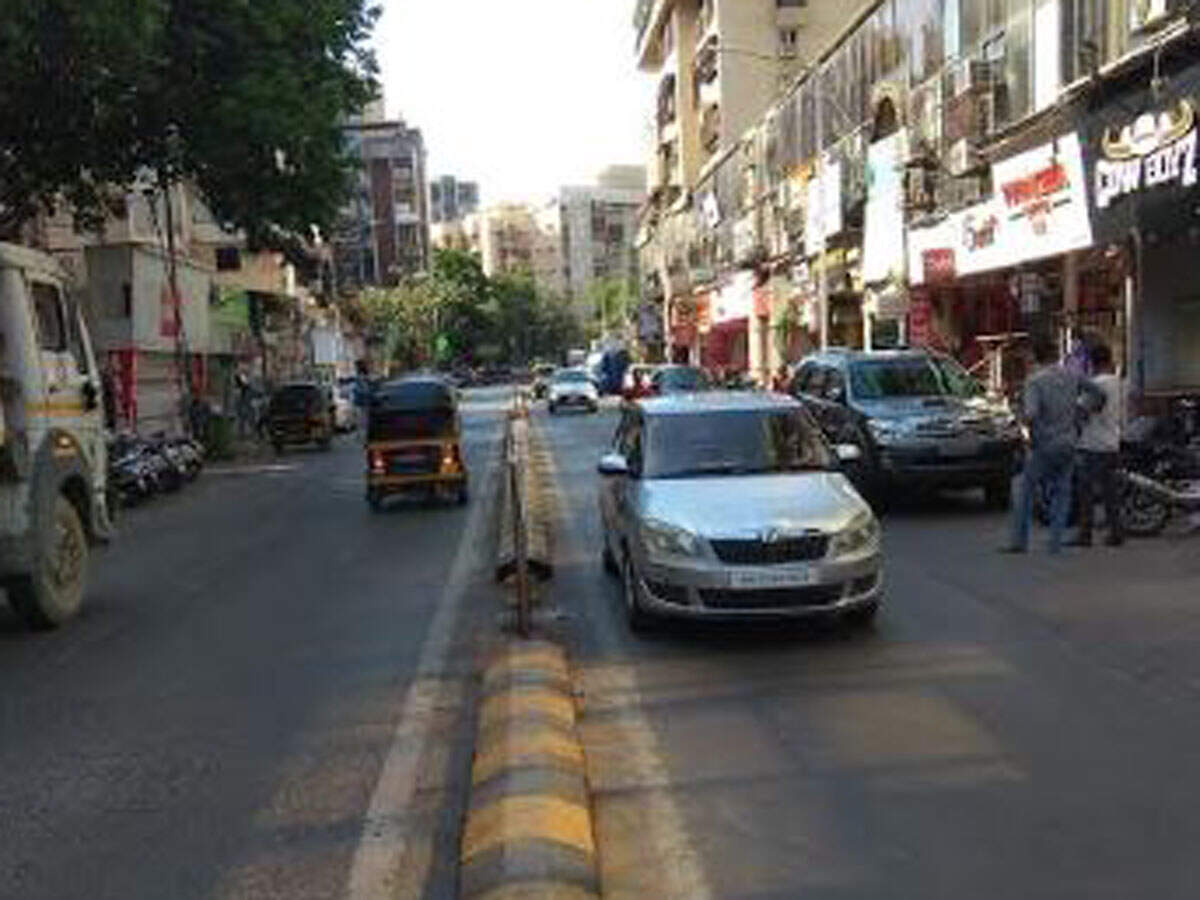 Grocery stores are reaping a windfall amid the emergency, although a lull is sure to follow. On Saturday in Lokhandwala Complex, Andheri, stores whose shelves are commonly bursting with fresh stock, ran out of small packets of white bread, sugar and pulses. Housewife Asmita Madaan was buying two of everything, bread, tissue paper, detergent, even idli batter. "At first we ourselves criticised panic buying. But now, seeing long lines and crowds in food malls, and seeing small packets dry out, we are forced to do so ourselves."
Those who came late to the party had to buy bulk quantities of 5 kilos of sugar or dal. Yet, necessity is the mother of invention. Residents were surprised to see enormous 2 kg loaves of bread that the area has not seen before.
Although they are exempt on paper, milk booths and grocery shops will remain shut Sunday given that buyers will be unable to step out. Therefore on Saturday, D'Mart Mulund reported long lines with a waiting time of up to 45 minutes. The store chain reportedly handed out tokens asking customers to come back later. On Sunday Nature's Basket will be shut for business.
During Sunday's curfew all shops including milk booths and chemists will not function. Petrol pumps will function with skeletal staff from 7.00am to 7.00pm, said Ravi Shinde, head of the petrol dealers' association. BEST buses will run to schedule.
Both Western Railway (WR) and Central Railway (CR) will run around 40% fewer services Sunday while Metro and Mono rail services are shut. A WR spokesman said, "Only 801 services will ply on the suburban section as against 1,278 on regular days." CR will run 1,100 services out of 1,425.
Domestic servants, drivers, attendants and garbage collectors across the city, even Nalasopara, will avoid work. Mutton supplies may trickle down as Deonar municipal abattoir is under lockdown. The last biweekly batch of approximately 25,000 animals arrived March 17. In fact police threatened a mutton shop owner in Dindoshi with a fine of Rs 12,500 if he did not roll down shutters, despite food being an essential commodity. He operated fearfully with shutters half rolled down.
Shops selling non-essentials in Palghar have been closed already. The farther suburbs report a drop in train passenger traffic which is a godsend for essential travellers.
Download

The Times of India News App for Latest City News

Subscribe

Start Your Daily Mornings with Times of India Newspaper! Order Now
Source: https://timesofindia.indiatimes.com/city/mumbai/mumbai-milk-booths-chemists-grocers-to-roll-down-shutters-on-sunday-petrol-pumps-to-close-early/articleshow/74752405.cms